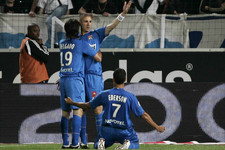 Read all the reactions from the OL camp after the victory over Marseille at the Vélodrome.
Jean-Michel Aulas
We were playing against a team going for the title, at their ground, so all the merit goes to Claude, his staff and of course the players who put in a fantastic performance. Beating Marseille in that manner is really something. You have to admit that the public in Marseille are unbelievable, there is a lot of people and enormous pressure, but I'd like to congratulates the 1 100 OL supporters who were brilliant.

Claude Puel
It wasn't an easy victory, this match had everything. There was a lot of quality, there were moments when we lost the ball a little too quickly and then at the end of the match a lot of courage when facing the long balls thrown at us by Marseille. We were in good form but at times we tried to go forward too quickly, we could have controlled the game more. We had to be present on the second balls as they were very dangerous. We also had a little bit of the luck that we had been lacking recently. I'm not drawing any conclusions as we have to keep third place and that isn't done just yet. The match against Caen will be very difficult as they are fighting for their survival.

Karim Benzema
We're all happy as our performance was very good. I scored tonight but I wouldn't go as far as saying that it is a relief. As long as I play well during the match, that is all that counts. Obviously all strikers like scoring goals, but I'm not getting worked up about it. I work hard in training and don't take much notice of what is said about me. I don't care what journalists say, as long as my team-mates, the staff and the coach have faith in me everything is fine.

Cris
We were ready and knew it was going to be a difficult match. We started well, resisting the pressure at the start of the game, then we were able to control proceedings. We managed to keep the ball and play together well. We can have regrets when you look at the points that we dropped in previous matches, but we're going to keep fighting for third place.

Juninho
We wanted to win this match anyway, despite the fact that Paris lost last night. The only team that was under any obligation to win tonight was Marseille. The first twenty minutes of the match were difficult, but after the first goal we felt that we could win. We had the run of the green, unlike during the rest of the season. We shouldn't have any regrets though. What we were really lacking this season was concentration. To win you have to keep repeating your efforts. Maybe we weren't concentrated enough because we have been champions seven years in a row. We lost the league at home against Monaco, Lorient, Valenciennes and Auxerre end of story. Despite that, holding on to third place is very important to us. We have to win at home (against Caen) on Saturday.

Hugo Lloris
We played as a very strong unit. We managed to weather out the storm at certain moments and dealt with Marseille's stronger periods well. We haven't had too much luck recently and it's good that things turned our way tonight. This victory is a good morale booster. We'll recuperate now and try and finish of the season in front of our supporters.