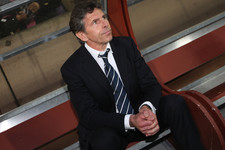 The match away to Marseille… or Juninho's future… Benzema's form… these were the subjects that were touched upon during the OL manager's press conference…
How is the treatment room looking?
« Piquionne has a slight groin problem and is touch and go for the match. Juninho is progressing well. We'll be taking stock on Saturday. Clerc and Bodmer trained normally ».

Where are the squad psychologically ?
« They are fine at every level ».

On whose shoulders will the pressure be on Sunday night ?
« The results from the matches involving Bordeaux and Paris on Saturday night will be of great importance. Those results could have an effect on how the match is played. We have a difficult task with a complicated fixture list ahead of us. We are determined to come out as best we can. Will pride be important? I'm not thinking like that. All I want is a qualification for next season's Champions League, that's the only thing that interests me. In the intensity, the ingredients and the stakes, this match will be like a Champions League match … all that will be missing is the music ».

Who deserves to be Champion ?
« The side that wins the league, both Marseille and Bordeaux would make great champions. Their performances this season have not surprised me. They are both having a fantastic end to the season. They have had their highs and their lows. OL were much more consistent up until February though ».

What do you think about Karim Benzema's performances?
I don't want to single out one player. He is part of a team. Against Nantes, it was the team that won; other players have scored goals. Afterwards you have to deal with form. What I want to see against Marseille is the same performance as against Nantes, but with more intensity and concentration. Karim, well we deal with him as we would any other player. He is not outside the collective ».

What about Jean II Makoun?
« He has found a second wind. I feel that he has been overly criticized at times. First and foremost he is there to recuperate the ball. There have been some lapses in his play, but he has been consistent in his defensive play and the amount of work put in. On the whole it's not too bad for a first season at the club. He can still lift his game to another level ».

What about Juninho and his future ?
« We've spoken with « Juni » and the president. We'll speak again before the end of the season. My opinion? I have one, it will be shared with « Juni » and the « President ».

Has Källström taken Grosso's position ?
« We'll see… we still have training sessions and matches to come ».