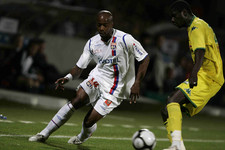 Read all the reactions from the OL camp after the win over Nantes.
Sidney Govou
This victory has done us the world of good. The training camp in Evian was helpful at all levels, notably for the team spirit. I didn't expect such support from our fans, even if I have been here for 11 years and have always had a good relationship with them. In any case, it's always great to run out onto the pitch, especially after my four months out.

Jérémy Toulalan
Tonight we saw that the team is united and that we wanted to win together. These last few days away have really helped us come together. Now, we'll be giving everything we have to go and win away to Marseille. I'm a little sad for Nantes and I really hope that they will make it. Despite everything, today I am at Lyon and we must focus on taking third place and a qualification for the Champions League.

Claude Puel
The situation demanded a good reaction from my players and they gave one. This victory has done a lot of good to the squad, to the supporters and the club. It was a good performance. We played well together and there was a lot of quality. We scored and didn't concede, I'll take that any day. The fact that we scored quickly gave us a lot of confidence. Everyone was on the same wavelength, even the players who came on over the course of the match. The players really wanted to make up for the non-performances we have put in recently, notably against Valenciennes, so it's good to have done so in this manner. The supporters were behind us all the way. Even in a season that has been difficult at home, the supporters have always been there and we should thank them for that.

Ederson
It was good to win like that as we haven't done that, control the match from start to finish, in a long time. We're all happy and it has given us a confidence boost. We tried to stay organised and play as simply as possible, moving the ball around to find space in our opponents defensive block. We have to keep that in mind and continue working in order to score in each match. Now, we have to recuperate as we have a big game coming up on Sunday. It's going to be difficult but I think we can go and get a result there.

Anthony Réveillère
We scored twice in the first half but I think that « Moun's » goal really put us out of harms way. Afterwards we were able to manage the game and make a number of changes. We played well and overall it was a good performance. I'd even go as far as saying that the old OL was back. The training camp really did us a lot of good. We stood up to be counted on the pitch. With this victory in hand we'll have a good day tomorrow. We'll look at tomorrow's results and take stock before heading into the huge game against Marseille, which will be vitally important for the rest of the season.