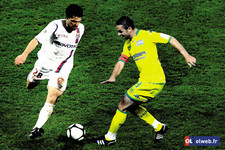 Olympique Lyonnais will be trying to get back to winning ways in the L1 with the reception of Nantes on Tuesday at 21h00. After four matches without success, Claude Puel's men have no time to lose in their quest for a place in the Champions League.
Expectations are huge. Will Lyon be able to lift themselves up or will they turn the other cheek after the slap that they received away to Valenciennes and a worrying run of four matches without victory? This question will be on everyone's lips when the seven times French champions step out onto the pitch at Gerland at around 21h00.

Yes expectations are high on the eve of Week 35, as the outcome is well worth the effort. If Juninho and his team-mates will have trouble catching Bordeaux and Olympique de Marseille, two sides who are fighting out the succession to OL, on the other hand they are in a great position to take third place in the L1 which is synonymous with a place in the preliminary round of the Champions League. With just four games to go before the end of the season, OL hold a one point lead over PSG, three points over Toulouse and five over Lille. This is no guarentee but is surely an advantage and is most certainly good news after the difficult run of two defeats and two draws in the last four matches.

A little bit of Evian and things kick off again?

In order to defeat FC Nantes, who are close to imploding in 18th place and are on a run of five defeats ion six matches, Lyon will have to find their goalscoring touch again. Claude Puel's men have not scored in their last three outings and the last goal was scored by Frédéric Piquionne one month ago, on the 12th of April in the 2-2 draw with Monaco in Week 31.
This match against Nantes will allow us, whatever the outcome, to know more about OL's ambitions at the end of the season. It will also let us see the hoped for effects of the four day training camp in Evian which saw OL defeat Grenoble 1-0 in a friendly match which saw the return to competition of John Mensah, Cesar Delgado and Sidney Govou. During the encounter, the latter played in a decisive pass and confirmed his statute of leader within the OL squad. During this difficult period, OL will certainly need the senior players to pull the teams performances up.