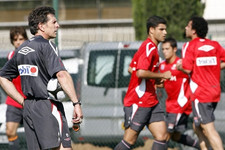 Before the behind closed doors training session, Claude Puel talked to the gathered Press about the training camp in Evian and the match against FC Nantes, tomorrow at 21h00.
What did you make of the training camp in Evian and the friendly match against Grenoble?
The camp went well. It was interesting in the work that we managed to do and the experiences we shared. But, a training camp isn't going to sort everything out, you have to do the business on the pitch.

Could it give the squad a second wind?
We don't have a new squad, but simply a squad that wants to finish this season off well, starting with Tuesday's match against Nantes, this could be a turning point for us in view of the matches we have afterwards. We just need a little victory, and that comes from an effort from everybody. A squad grows from this kind of situation, we can prove that on Tuesday.

Could the victory against Grenoble in the friendly match be a trigger?
We didn't play the ball around too badly, but against Nantes it will be a different story, the intensity will be different. Let's just say it was a good training session.

OL haven't scored in the last three matches. What do you put that down to?
Each match was different. We played two direct rivals for the title who didn't manage to scoe many against us (1, Diarra for Bordeaux). The results were decided on details. Against Valenciennes, we were lacking in a number of departments. Now we have to fiocus on the end of our season and on all the positives we are able to draw on.

Lyon are favourites against Nantes. Does this constitute an advantage as far as you are concerned?
There is no statute and no easy match. We saw against Valenciennes that your standing means nothing.

Is the title still being talked about within the squad?
We are focused on Tuesday's game. We need to get back to winning ways and there is no point speculating on anything.

A word on FC Nantes ?
They are in a relegation battle and will be coming here with a commando mentality. We've been warned. We have a lot of respect for our opponents but it is up to us to stamp our authority on the match. There is no revenge to be taken in regards to the away game earlier in the season, if there is revenge to be taken then it is on ourselves. I hope we will be able to put a bit more weight into our play.

Where is the squad concerning injuries?
Mathieu Bodmer is uncertain and François Clerc is a little tired.

How is Sidney Govou ?
It's possible that he make a comeback to the squad. We're counting on him and wil see what he can bring to the team.

What do you think about the comments made by Fred in L'Equipe Magazine?
It's just an extra layer to everything else that is being said at the moment. We know all about Fred, about what he brought to OL. I noticed that he enjoyed eating out a lot, but really there's not a lot to say when you know the character well enough.