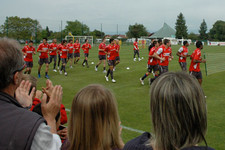 A quality post-match day...a varied and energetic training session...and good humour
Réveillère, Bodmer, Cris, Juninho, Toulalan didn't pull on their boots at 16h 30. They climbed onto mountain bikes for a run out into the heights of Evian with master Duverne. In the morning Claude Puel and a few courageous staff members had done the same.

16 h30 on the pitch of the Camille Fournier stadium, 21 players warmed up listening to the instructions of Bruno Génésio. 15 minutes later, they started a workshop in front of the goal with one man crossing and another waiting in the middle, then switching roles. There was no time for resting, except when the first group switched with the second. It was difficult to keep any semblance of lucidity during the exercise, especially when air was lacking. Benzema and Källström showed their prowess in front of goal, despite the vigilance of the three keepers.

This, intense, first thirty minutes were followed by another half hour based on play on a reduced size pitch. Nobody wants to let anything go, especially when Bruno Génésio, the referee, announced that the victory would be given to the side with a two goal lead after, and witout taking into account, the first 25 minutes already played. It was Govou and his team-mates who won 2-0, even though they had been dominated by Claude Puel's side just before hand. You can imagine the joy on one side and « the bad losers on the other ». Bruno Génésio having had the bad idea to make a joke, found himself grappled to the ground by Claude Puel and Rémy Vercoutre… having his shorts pulled down to boot.

The band of jokers continued with a traditional session of stretching. « Man, it was tough … ». Kader Keita went by laughing. Claude Puel is satisfied: « these little games are great… ». The group made their way to the bus, where the autograph and photo hunters were waiting. The youngster Ramirez immortalized the moment. Once again he used miles of film! At his age, you don't hold back... On Sunday morning, a closed training session will be held. In the afternoon, the squad will go karting.