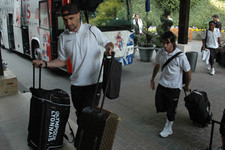 The OL squad arrived in Evian late in the afternoon… OL will play a friendly match on Friday at 17h00 against Grenoble…
Nigh on one year exactly, the OL squad find themselves back in Evian. A squad that has changed, hoping to finish off the season well, even if the objectives are not the same as those of last season. No Coupe de France or league title on the horizon. A place in the Champions League is still there to be taken, which is far from negligible.

The Hotel Ermitage remains as majestic as ever. Its lawns, mown to perfection a perfect temptation to lounging around. The menu at the restaurant would whet the appetite of the most difficult of gourmets. Golfers return to the hotel just as the OL squad arrives. 19h15. In a matter of minutes, the players take possession of their rooms. Dinner is scheduled for 20h00. There will be a training session on Friday morning, then a friendly match against Grenoble from 17h00.

Evian waits for night to falls . The hydrotherapy clients have finished their treatment for the day. The natives take a maximum of water from the oldest spring in the village. Lake Leman appeases the mind. In the distance, Switzerland, Lausanne. We seem to hear a noise … that of coins being pushed into the machines at the nearby casino.

The OL squad are in Evian for 4 days… as many days as matches left to be played . A training camp in order to help the squad win the sprint home, a sprint which is incredibly important for the club.