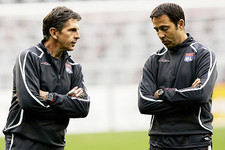 The OL manager reflects on the current situation the club is in...
Claude, what has the situation been like since the defeat away to Valenciennes ?
« On Tuesday the President and I met up with the supporters; this was a meeting that had been organised for a while. We listened to the supporters who had legitimate demands, notably after the mess of a match that they saw on Saturday. It's normal that they are unhappy. They want to see a team fighting like hell for a place in the next season's Champions League.

The players?
We've had discussions. We are going through something at the moment which can perhaps be explained, on a human level, by a club and a squad of players who had high objectives and have now had to set their sights a little lower. It happens elsewhere as well. But at Lyon, we have to bounce back quickly when faced by adversity. It's up to us to find the right ways of making it happen ».

Do you think some players wanted to give you problems ?
« Our morale isn't the best at the moment. It's OL, there are high expectations and a special atmosphere around the club. We have to live up to these expectations. There have been difficulties since the start of the season. I think it's a learning curve. We need to use it to finish off the season well and prepare for next season. We cannot just sit back and take what comes at us. We'll be making sure that doesn't happen. Personally betrayed by the players ? No. The players are not dishonest and don't think like that. A player gives what he is able to give, he is only human. The squad is fragile at the moment. Psychologically something broke after the loss to Barcelona. »

Is the training camp in Evian a good idea ?
« It is something that had been planned some time ago, there was no question of cancelling it. But just because we are away on a training camp doesn't mean things will automatically be better afterwards. We need to give ourselves the tools that will bring us a qualification for the Champions League. It will just be the normal squad that will go to Evian. Fabio Santos will not be present . He has been suspended from the squad ».

Is this the most complicated situation you have encountered in your career ?
« No. I've been through more complicated situations. It's part and parcel of a footballer's and manager's career. I'm ready. It doesn't bother me, even if I would prefer not to have this type of problem. A manager is always a target as he is on the frontline. It's normal. A manager is there to take the blows. I have to take care of the squad as they need serenity to progress. Adversity makes me push on».

Did you tender your resignation, as has been written recently ?
« I'm not going to waste my time commenting on nonsense».

Can the current situation have an impact on next season ?
« We'll think about that after the next 4 matches which are very important. There is a common cause now with th objective of reaching the Champions League. Afterwards, we'll see … But we will need players in form with clear heads. This situation could turn to our advantage ».

What do you feel about recent declarations that the OL President has made ?
« He's the boss, he is frustrated and angry. It's normal that he should speak out. Everyone has been targeted by the President, if his words affected any of the players badly, then it would be proof that they lack character. That will not be the case. The President just wanted to give everyone a wake up call ».

How is Govou coming along?
« Sidney should be back in the squad for the friendly match against Grenoble. He's been given the go-ahead by the Pr. Moyen. It's good news. He is important for the squad. But other players, even if they are not senior players, are important to the squad as well. We are counting on the squad and on those capable of taking the high ground ».