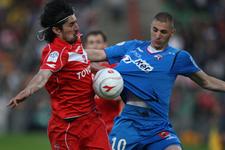 All the reactions from the players and the OL president after the defeat away to Valenciennes.
Jean-Michel Aulas
We are disappointed and even appalled by what we saw out on the field. I generally defend my players, but tonight they weren't able to perform well enough to change the match. Valenciennes showed a lot more desire and much more drive than Lyon. It's true that one side were playing for their survival in the L1 and the other for a place in Europe, but it is not normal that there was such a difference in desire when you would think that in general the OL players would be better in that area. At the end of the day the mental reactions were not at the same level as the ambitions of the club this year. We have a team that on an individual and collective level is in doubt. I went to see the squad and told them what I felt, as I am confident in the players and their capability of bouncing back. I also told them how I felt about the institution of OL and the supporters. When you play for Olympique Lyonnais you to be responsible in all circumstances.

Cris
We're in a complicated situation. A team like Lyon must not let its head drop. There are 4 difficult matches to go and we are playing for our futures. We have to put in the efforts, even if we are lacking in confidence at the moment. We have to try and get everything back, we have the key but it will only come from the whole of the group. If we don't play together we will not win. We will have to give everything we have in order to win our next home game.

Jean-Alain Boumsong
There is a little bit of everything. There is a distinct lack of confidence, there is also the character that we should be showing at this stage of the season. We're also not very lucky at the moment either, nothing is going right … Unfortunately the fraternity which could have helped us resist is crumbling and not constant.