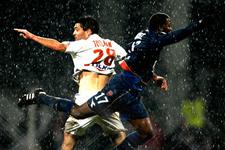 To keep their hopes alive and not ruin everything, the seven times French champions need to get back to winning ways. They travel to Valenciennes to face a side fighting against relegation...
In the space of three matches OL have seriously compromised their chances of holding on to the title of French champions. 2 points taken while Marseille and Bordeaux, over the same period of time, have taken 9 building up a gap at the top of the table with only 5 games to go, OM have a 6 point lead and Bordeaux a 4 point lead over OL. With the two sides also having a better goal difference, a small miracle will be necessary for OL to get back in control. « There are stiIl 15 points to be taken. We will take stock at the end of the season … ». Claude Puel knows how difficult his task is but will not give up until it is mathematically impossible.

Not give up, because the danger is also closing in behind Juninho et al. PSG are just one point behind, Toulouse 4 and Lille 5. If the title seems to now be out of reach, 2nd or 3rd place have not been assured just yet either … nor has 5th place. We are talking about a place in Europe next season, so OL need to be careful!

This trip up north , without Juninho, Makoun or Govou, will be anything but a walk in the park. Kombouaré's men still do not have enough points to consider themselves safe and have a difficult fixture list right up to the end of the season. Without Darcheville, Lacourt, Abardonado, Saez… can Valenciennes, who have not won on the road this season, drop points at home in this final run-in to the seasons end? This side, whose principle strength comes from its teamwork, took 25 points between Week 18 and Week 30 before letting their foot off the gas and taking only 1 point from the last three matches.

Two draws and a defeat have put OL in a fragile position. The good periods against Monaco, Bordeaux and PSG were not enough to make the difference, without even mentioning refereeing decisions. Can the squad turn things around and finish in a blaze of glory? « A run-in like this is also played with your heart … ». It is more than tactical and technical aspects … Claude Puel added this idea that is linked to desire.

Will the Lyon manager once again change his starting line-up more than dealing with the forced absence of Juninho? We would be tempted to reply in the affirmative when you look at the previous 46 matches this season. If he does, it could allow Fabio Santos, Grosso or Delgado to get back into the first eleven. Whilst wishing that Benzema will be able to bring his goalscoring prowess to the team.

Take all three points . Keep the tally ticking over in order to really take part in this final run-in. If this happens the trip up north would be a success. And maybe even more depending of the Marseille, Bordeaux, Paris and Toulouse matches.