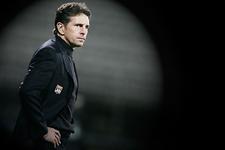 Bordeaux's victory hasn't changed anything as far as the OL coach is concerned...Juninho will be out for the trip to Valenciennes...
An update on the injury list?
« Juninho will be absent against Valenciennes, he has a slight groin problem. I think he should be back next week. Govou continues to progress, but still has some work to do.. We'll see how things go … It's already good to see him up and about. He's working well. Makoun will be suspended on Saturday ».

How are you preparing for the match against Valenciennes?
« The league standings don't change anything. Now we have two rivals to chase down for the title. We have five matches to go and we'll do all the sums at the end of the season. Valenciennes are capable of playing and getting results. At home they can count on their strong support. They are playing against relegation, but each match is important. No sides are going to be letting up. Matches are being decided on details at the moment. We need to be at 100%. We have to go beyond the technical and tactical aspects. A final run-in has to be played with your heart ».

It would be a miracle if OL managed to become champions?
« A miracle, no. But we aren't in an ideal situation. However, there are always surprises at the end of a season, it's still there to be plated for. Afterwards, things are quite tight behind us. We're in the race for a place in the Champions League. We have to keep the fourth placed side at arms length and then try to look forward ».

We're you satisfied with the team against PSG?
« The most important thing is the animation, that's what makes all the difference. Our animation in the first half against PSG was satisfying. We were still lacking in the final gesture, creativity and our acceleration in the final part of the field. The way we moved the ball forward was interesting though. We are progressing physically, which was shown by Fabio Santos, who is now capable of playing the full 90 minutes. Delgado is also available now as well ».

What is your reaction to what President Jean-Michel Aulas has said?
"The president, when he said that a participation in the Europa League would not be a catastrophe, was speaking from a financial point of view, not a sporting one ".