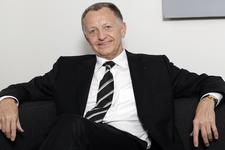 Taking time out from a conference organised by the OL Foundation, the Lyon President Jean-Michel Aulas speaks about OL's end to the season.
Do you think you're still in the race for the title?
The chances are slim, but nothing is over just yet. The number of times I have managed to win contracts that appeared lost with my company leaves me remaining confident and gives me reasons to continue believing. We're going to give it our all. Are we capable of making up the 6 points? I don't know, but we will give it a good go.

Are you looking to qualify for the Champions League?
As champions we would qualify directly for the Champion's League… Our objective at the moment is to win all of our remaining matches. The whole of France wanted the league to be tighter, they wanted Lyon to have more rivals. That is how it is today and everyone is happy. But these same people, if they were coherent, would be behind us until the match against OM, so that that match would be much more interesting for French football in general. Third place is always interesting, but a lot less than first or second. It's true that it would be good, but as President of OL I am always looking for more.

We are coming to the end of the season, what conclusions can you draw with five games to go?
Marseille are playing well at the right time, Lille are good challenger's but were inexistent against OM. At the start of the season OM and PSG were my favourites, I didn't see Bordeaux being up there, but today they are. We've won seven titles in a row, but this year was a lot more difficult. We changed manager's, we've had a lot of injuries …There are a certain number of parameters which have to be taken into account and today we have to make more efforts. On top of that, we have been a little clumsy this season, when you look at the number of times we hit the post or the crossbar, you could even say we were unlucky. Then, of course, you have the mistakes made by referees, as was the case against Bordeaux and PSG. I hadn't said anything about that, so that you could make up your own mind and I noted that everyone had a reaction …

Will your transfer budget be different if OL don't manage to qualify for the Champions League?
It will remain the same whether we qualify or not. Whatever happens, OL will have a very strong side next season.