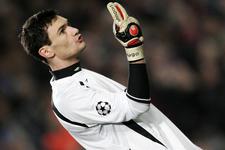 The OL goalkeeper answered questions from the Press.
Yesterday, the atmosphere in training seemed to be a little morose, today things seem to be better …
I trained with Joël and Joan yesterday, so I didn't really pay much attention to the rest of the squad, but as far as the atmosphere in the dressing room is concerned nothing has changed, everyone is still very positive.

OM's victory in Lille must have been a bit of a blow though …
We were expecting it, Marseille are solid this season, they already proved that in Lorient when the turned the match around after falling behind, they did the same against Lille, it's proof that OM are very strong and will be right to the end of the season.

Does that mean you have given up on the title?
Not at all, mathematically it is still possible. As far as we are concerned a qualification for next seasons Champion's League is our main objective, we'll also be trying to stay in touch with Bordeaux and Marseille then we will see what will happens. It's true that we are a little behind, but things can change quickly, maybe some teams will choke, that's why we need to win our final five matches. We won't be giving up. It's true that it's not easy, but we will keep going. Today we are in a difficult situation, that's football, and it can only make us better.

When you look at PSG's schedule and OL's, it looks like things could be difficult...
Each match is difficult, but if we start focusing on that then we won't get very far. We take each match as it comes, it's true that we will be up against some good sides, but we have a lot of quality as well which could be decisive. We aren't going to be counting on our opponents to slip up, it's up to us to go out and win games. We're on the right track at the moment, we weren't rewarded in our last two matches, but the performances were there.

How can OL win their last five matches when you haven't won any of the last three?
At the moment things aren't going our way, but we have to take each match as it comes, against Valenciennes it won't be easy as they are difficult to beat at home, we will have to focus and give everything in order to take all three points. Each game is going to be complicated from now until the end of the season, we will have to be stronger and tougher.

You have just played two big matches against Paris and Bordeaux, do you feel that the results of these matches was fair?
It's not that the results were unfair, but when you look at the performances that we put in we deserved a draw against Bordeaux and a win against Paris, but afterwards there are decisions from the referee to contend with. I don't want to start a scandal because error is only human and it is all part of the game, but it's true that these decisions hurt us. If we'd scored against Bordeaux after 6 minutes, the game would have been totally different and if we'd scored just before half time against Paris it would have made the game that little bit easier. That's just the way things go, a match is played over 90 minutes and not just one moment in the match. The referees are well aware that they have made mistakes, but we are not going to use this as an excuse, if we are stronger than our opponents then we should win thanks to our style of play.

Are you scared that you will finish in 4th place, which would be catastrophic?
No, we're not scared, in any case we cannot drop any lower at the moment, we will keep on and try and win the points that will take us into the Champions League, then we will be waiting in case either of the top two sides slip up, they are under more pressure now and we are just taking each match as it comes, but they are in control for the moment. There have been some great moments this season, and some less good, but if we were so long in first place there must be a reason and we must have deserved to have been there.

Are you under the impression that the match against OM will be decisive?
We'll see. We will be looking to take all nine points before that match, but we're not there just yet and we will have to see where we are at the time. Marseille have a tough run-in, Bordeaux as well. We have to remain calm, lucid and take everything that we can manage to take.