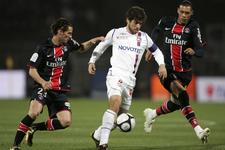 All the reactions from the OL camp after the draw with PSG.
Anthony Mounier
We're a little disappointed just like last week-end against Bordeaux, as we should have had a penalty in the first half again. The referee told us he saw the handball but that it was not voluntary … I don't know how you can say that it was not voluntary when the hand was above the head, but that's football. We just have to deal with it, we had chances tonight as well. We only conceded one real chance which Hugo dealt with, but apart from that Paris didn't cause us any real problems. We haven't given up on the title just yet. We're waiting to see the results of the other matches this week-end, as well as the match between Rennes and Bordeaux. We still believe and if we manage to win over the course of the last few matches it would only be sweeter.

Miralem Pjanic
It's really frustrating, we dominated the match and they only had one chance, no corners, nothing. We created a lot of chances and we're unlucky to not be given a penalty. We're a little out of luck at the moment, but nothing is over just yet and we won't ever give up.

Claude Puel
I'm very disappointed, especially for the players. We played very well and with a bit of luck could have won the match. Globally, our performance was very good but the ball just wouldn't go in. We can still do better though. Karim had an effort hit the post in the second half, which could have rewarded our efforts as we put in a lot of work tonight to try and find solutions. Games just aren't going our way at the time being, after the match there was a lot of frustration within the squad. We might win the fair-play award at the end of the season, but that won't suit me.