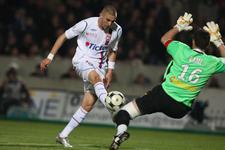 All the reactions from the OL camp after the defeat away to Bordeaux.
Jean II Makoun
I was right next to the action when Ederson was fouled. The referee made his decision and we can't go back in time. We started the match in good form and were playing well until we conceded this goal. We have nothing to be ashamed about our performance, we played well and created chances. We were a little unlucky as we have been for a while now. Nothing is over yet, there are still matches to be played and points to be won. We cannot slip up anymore, especially at home.

Jean-Michel Aulas
We put in a good performance against a good side. We have to congratulate Bordeaux as they found out how to beat us, even if I feel that we were the better side. Circumstances were difficult as it is obvious that a side who are fighting for the title, in a match at home, are formidable. We were not favoured during the game either. The match could have turned out differently if we had been given a penalty in the first half. It's a shame, but errors are human, the referee can make a mistake. He made two mistakes tonight and they should have given us penalties, it's a lot but Mr. Bré is one of the best referees in France, probably the best so we will have to give him the benefit of the doubt. It's true that I am disappointed for the players because they put in a great performance, I'm also sad for Claude (Puel) who put out a side that were motivated and caused a lot of problems to this Bordeaux side. Now, we have six matches to go, so 18 points. We have 60 points, we have to remain completely focused on our objective. 18 and 60 makes 78 points and if my memory is correct we have never reached 78 points when we have been champions, so there is still hope. This hope is weaker this evening than it was this morning but I also want to say to the supporters, who got behind us and were formidable from the start to the finish, that they need to stay behind their team right to the death. On Friday, we won't be able to take our revenge over Bordeaux, but over the bad luck that has been following us and this time the referee shouldn't make to mistakes in our opponents favour.

Kim Källström
It was a very physical match with a lot of the play taking place in the midfield. We were present in the match but we just couldn't get that little goal that would have helped us put in a really great match. Defensively, Bordeaux are very strong and going forward they are dangerous from set pieces. They are difficult to stop, they are big guys and things were complicated. It's a shame, but that's football. I don't really want to say anything about the referee. Referees are human, they make mistakes and will continue to make mistakes. I think that when he goes home and takes another look at the match he will recognize his mistakes. It's all in the past now. In a season there are always decisions that go in your favour or against it. It's tough but part of the game. It's a good thing that the match against Paris is coming around quickly, we won't have time to dwell on this defeat. We are going to recuperate and we all want to put in a great performance in front of our supporters.

Claude Puel
They game didn't turn on much, the first team to score was always going to take quite an advantage. Bordeaux really hurt us from set pieces. They have quite a direct style of play and try and pick up from knock downs. We stood up to be counted, but it was difficult to contain them from set pieces. The players are disappointed and have taken a knock, but we'll have them back out working tomorrow. We did show some pretty good things this evening.