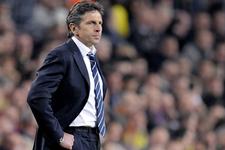 The loss of first place in the L1 has changed nothing as far as the OL coach is concerned, as he expects a physical match on Sunday away to Bordeaux...
A word at the injury list ?
« Govou is continuing his preparation. Delgado is still running. Toulalan and Juninho trained on Thursday. We will see hw they are on Saturday. I hope they will be fine ».

What was the atmosphere like this week ?
« There was a lot of hard work done in training, all of which went down with a great atmosphere ».

Could the title decided in Bordeaux?
« The league standings are so tight, all the matches all over will be important. Each match for us and for opponents will be important; Bordeaux will not be decisive ».

What type of match are you expecting ?
« A solid match . Bordeaux are physically strong and throw themselves into each game. They are very strong in the air and have a lot of arguments for success. When we played them earlier in the season, they got into the match well using their physical impact. Afterwards we had our chances. It was a strange match. In Bordeaux, we will have to be ready physically, but that will not be the sole key to the game. Both sides have many arguments ».

Where will Benzema be positioned ?
« He is a forward, but he is more than capable of playing out on the left as well. We have used him in both positions as he can be efficient in both ».

What will the presence of Toulalan change?
« With him we are much more solid in the midfield, we hae much more impact, that's for sure ».

Has the pressure on you changed since you slipped from first place ?
« Losing first place hasn't changed anything particularly. Things are still normal. When we were in front, we didn't have the impression that we had won the League. Now that we are not leaders, we don't have the impression that we have lost it either ».