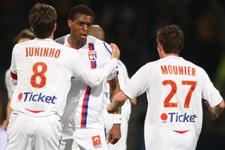 Read the reactions from the OL camp after the draw with Monaco.
Jean-Michel Aulas
We lacked a little luck, but it is true that this Monaco side put in an outstanding performance as far as their desire was concerned. We are very disappointed tonight, we knew that slip ups and even drawn matches are points that are lost. The league is not over, we will have to go and get some results away from home. We knew that our weak point this year has been our home form and we came up against an excellent Monaco side. We did the hard work by getting back on level terms and then conceded a second straight from the kick-off. Sunday against Bordeaux will be a decisive match as far as the L1 is concerned. Bordeaux will be at home and will be favourites, it will be up to us to make the difference and our away form has been great this season.

Anthony Réveillère
I was very happy to be playing. I felt good for the first twenty, twenty five minutes but afterwards it was very tough. I'm pleased that I managed to play the full 90 minutes and that my knee held up. I didn't expect to be in good form and knew it was going to be difficult. I know that I will need a run of matches to get back into form. We pushed forward a lot and Monaco were always dangerous on the break. When we had the ball we played high up the field so there was a lot of space behind us. It's not a great result, but the manner in which we got back into the match on two occasions is good.

Claude Puel
I'm disappointed by the result. We conceded two goals that could have been avoided. What was interesting was the psychological resources that the squad has, being capable of getting back into the match after going behind twice shows that we are still in the hunt. There are still a few matches to go, even if we do have the more difficult schedule, it's good though as we will be up against our direct opponents. Everything is still there to be played for. It's after the final match of the season that we need to be in first place.