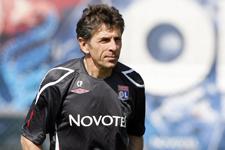 A look at the injury list...the match against Monaco...Govou...Barcelona...these are just some of the subjects broached by the OL manager...
What does the injury situation look like ?
« Toulalan is having treatment. He will be with us on Friday and we hope that he will be fit to prepare for the match against Bordeaux. Delgado and Govou are on their way back. Could Sidney play before the end of the season? I don't know, normally that type of injury takes 6 months to heal. He is ahead of schedule. We'll see how everything goes. He is motivated and full of desire … Everyone else is operational, with differing levels of form ».

How is this match looking ?
« Just like any match, but they are all different. We're playing after everyone this weekend, but next week it will be the other way around. You get used to it. I don't know if it is an advantage to play after everyone else, you have to take everything into consideration. At the end of the day it isn't really important. Before or after, you have to be prepared for each match ».

What do you think about this Monaco side ?
« They are a strange side, capable of transcending, or messing up completely, a match. They have been capable of losing three matches in a row and then been in unstoppable form for three matches in a row as well. They are a young side, it's the start of a cycle. They are lacking a little maturity, but we will have to be wary. They have players up front who are capable of making the difference. We cannot really take into account their last performance against Le Havre as they were not playing at their proper level. We are forewarned ».

Is it important to win at Gerland?
« It's important to win full stop. Our aim is to take points from each and every match. We cannot drop points from now to the end of the season. We have to perform better than we did in our last two matches ».

Is this match against Monaco special for you ?
« I'm a pro. I know when to separate things. This match is important for OL. There is nothing else to take into consideration. What interests me is the 8 matches we have left to play… nothing else ».

What did you think of Barcelona's performance against Bayern?
« This match probably showed Barcelona's quality to everyone. It puts us in a slightly better light, but we knew where we were. Barcelona, have an absolutely fantastic side ».