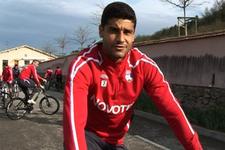 The OL squad took part in an interesting training session this morning. The meeting point was not at Tola Volge but at Brignais. The ball had been put to one side and the team got on their bikes.
The players and members of the staff met up at 10h00 for the start of the session. Cyclists for the day, they were to follow a course set out by Robert Duverne and marked out with green arrows.

Even if some of those present seemed to be more at their ease than others, the good humour of the session was not altered. The first group that was left behind consisted of John Mensah, Jean II Makoun, Fabio Santos, Cris and Kader Keita. The Ivory Coast international was in fine form, kitted out from head to foot so as not to hurt himself, Keita cracked joke after joke. The good news from the session came from the fact that Sidney Govou followed the séance without seeming to feel any pain.

After the bikes, the players went on to try out badminton. The squad was split into two groups. Fabio Santos and Cesar Delgado, wiped out by the cycling, contented themselves with a bit of support for their partners. The final of this doubles tournament was played between Mathieu Bodmer/Anthony Réveillère and Jean-Alain Boumsong/Rémy Vercoutre. It was the first duo that won with a score of 19 to 18. Of note was the desire for victory of the duo Karim Benzema/Frédéric Piquionne. The two forwards contested every point. Sidney Govou also took part in the competition.
This afternoon, the OL squad will get back to basics with an indoor football tournament.