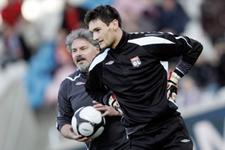 The former Nice man played a huge part in OL's win over Le Mans on Saturday. The international keeper is racking up an impressive number of top level performances...
On the eve of the match, in the private training session, he had already stopped everything. « It's Hugo… the Boss ». Bruno Génésio found the phrase to describe the OL keepers performances. 24 hours later, he would have been able to stop bullets fired at point blank range. 17 significant and 3 decisive saves! Against Sochaux, he managed 16 saves, 3 of them decisive.

Hugo has played in 27 of the 30 L1 matches so far. He had a direct influence on the result of 10 of those matches. His saves a worth around 15 points; saves that kept OL ahead or in the match. When OL have lost or drawn, it is difficult to find fault with him, inless the fact that he was not « decisive », like against Rennes, for example.

He was in good form against Bordeaux during the Champions Trophy as well as against Marseille in the Coupe de France. In the Champions League, he was decisive against Fiorentina (2 matches), Bayern Munich and against Barcelona at Gerland. His performances in Bucharest and against Bayern at Gerland, however, were less spectacular. All that remains is the match in Barcelona where he was powerless, despite 3 decisive saves. He had almost certainly been penalised by a fortnight of getting over injury, which broke the good form he had been in beforehand.

He know has 8 remaining matches this season, in which to take part in winning an 8th title of French Champions for OL, his first. This would be the crowning moment of a great season, personally .