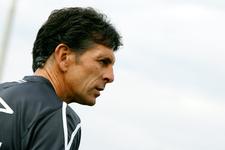 A look at the injury list...the final run-in....the trip to Le Mans...these are the three subjects that the OL coach discussed after the days training session...
Injury table?
« Fabio Santos, Mensah and Delgado are on their way back. Toulalan and Källström came back from international duty one with a foot problem and the other with a knock to his ankle. We'll see how they are for the trip to Le Mans. Boumsong is fit. We'll be taking an overall look at the state of the players on Friday morning ».

Is it a whole new L1 competition which will be starting this weekend ?
« Yes. It's never easy to get right back into the swing of things when so many players have been away on international duty. We're focusing training on recuperation and remotivation. This match is a bit special as it is the first in a series of nine that we have left to play. We have to be there and focused from the first match ».

What can make the difference in this season's end ?
« Consistency will make the difference. As far as I'm concerned there are six clubs in this final run-in and each club will have their chances. OL are able to deal with this type of situation well. We will manage this end of the season match by match. Everything is wide open and this season the situation is new for OL as there are a number of direct opponents for the title. Are OL favourites ? Yes, in the same way that we were at the start of the season ».

Is the squad over the disappointment of Barcelona ?
« I feel that we have moved on. The squad is over the elimination and are concentrating on the end of the L1 season ».

What is your opinion of Le Mans?
« They are a very difficult side to play against, with a big defensive block that is positioned deep. They will be playing on the counter attack, looking to win the second ball. They have Gervinho, who is very dangerous. They will be difficult to shake, they have a different look from the match earlier in the season. They don't play the same way or use the same formation. They are now much more focused on the defensive aspect of their play and will be looking to hit us on the break ».