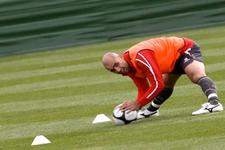 On Wednesday morning, a group of twenty two players underwent a physically tiring 2 hour training session.
If Juninho, Vercoutre and Hartock played a bit of foot-tennis in order to warm up, the fourteen other OL players took part in three workshops based on vivacity, in which they worked on their pace and reflexes.
The OL squad then continued with a series of duels in front of goal. At a signal from Patrick Collot, the two players had to jump over three obstacles before finishing up with a shot.
In teams of four, afterwards, the Gones played out a series of short oppositions. They had the possibiilty of using players positioned outside the playing area.
The players then continued with an 8 against 8 confrontation before finishing off the session with a few laps of the field and some stretching.

John Mensah, Jean II Makoun, Fabio Santos, Cesar Delgado and Kim Källström, in a session apart, put in a heavy load of physical work before concluding their session with a match of foot-tennis.

The next training session will take place on Thursday at 16h00.