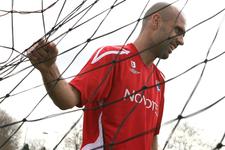 A double training session was programmed for the OL squad on Tuesday. In the morning session, 17 OL players, including 5 youngsters from the CFA side, took part in a long seance in the Spring sun.
The morning

After a short warm up session, the OL squad spent about an hour on a very physical sessions (chair, skipping rope, step,...).
The players then spent time working on their attacking and defending skills. The forwards, with defenders behind them worked in a counter attack situation and had to finish off each movement with a shot on goal.
They then finished off with a session of attack-defence on half a pitch.

Returning from injury, Jean-Alain Boumsong and John Mensah ran before finishing off their seesion with a game of foot-tennis. Also making his way back was Fabio Santos, who spent his time jogging. Only Cesar Delgado was missing at Tola-Vologe this morning.

The afternoon

Most of the first team players were allowed to rest with Claude Puel only summoning 10 players for the afternoon session at Tola-Vologe.

Following the warm-up session, the outfield players worked on their control and passing sequences at pace and within a small perimeter. The goalkeepers worked with the ball at their feet.
The gathered players then went through a long session in front of and then with their backs to goal, an exercise at which Ederson, Alexandre Lacazette and Jérémy Pied were particularly adept. The « Gones » finished up the session with a series of volleys on goal.

Under the orders of Sonny Anderson, Kader Keita spent a long time jogging before finishing up with a series of sprints.

The next training session will take place on Wednesday morning at 10h00. This session will be open to the public.