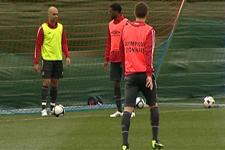 For the first training session of the week, thirteen OL players took part in a session mainly based on physical work.
After a lap of the field in order to get the mechanisms going, eleven OL players, including Jean-Alain Boumsong, worked on three different workshops alternating frequently (balance work, slaloms, jumping over obstacles...). They finished up each series with a sprint.

In the company of John Mensah and François Clerc, Yannis Tafer, after returning from international duty, multiplied long runs at a high rhythm.
If the goalkeepers had a specific session, the outfield players then went on to work with the ball. In teams of five, the OL squad worked on their ball conservation and play in movement. The two sides had either to play the highest number of passes before scoring, or defend one of the three empty goals.

Jean-Alain Boumsong, John Mensah and Yannis Tafer did not take part in this exercise. Making their comebacks from injury, Cesar Delgado and Fabio Santos were absent.