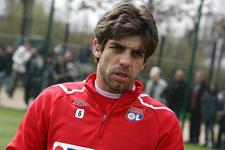 Before this afternoons training session, Juninho stopped to speak to the Press. OL's captain spoke about his future with Lyon and the fight for the 8th title of French Champions, a title that is hotly disputed.
Juninho, there are no matches this week, but you still have training. How is everything going?
It's good that we can have a bit of a rest from time to time. A lot of our players are away on international duty, it's always difficult for them as they do not have time to recuperate. We had two days off and then a week of training. There are nine weeks of competition to go and as we will only be playing in the L1 it probably is the right time to do a little extra work. We've been playing less well recently, so we're taking advantage of this break to recuperate and work hard.

The race for the title is going to be tight. How do you see OL in comparison to their opponents?
The league is very well balanced and difficult. Of course we are not going to let up. We're still in first place. But, with only a one point lead and there is not a great deal between first and sixth place. I had said that our six point lead would not be enough and I wasn't wrong. Since the home leg against Barcelona where we played well, I don't understand what has happened to the side. We've shown a side to OL that we haven't seen in a long time. At the end of the day we lost a number of matches and everyone is happy about that. The other sides in the L1 took advantage of our drop in form. Today, there is still a chance that we may not qualify for the Champion's League. But, we could also end up with an 8th L1 title in a row. It was good that we beat Sochaux last Sunday. I hope that the confidence that we had lost will come back. Our objective is an 8th title of French champions. Right now we will be able to have a full week's preparation for each match. All we are interested in at the moment is Le Mans. We are looking to take all three points from our match over there.

Which side deserves to be French Champions?
Bordeaux and Marseille are, in my opinion, the two sides that deserve the title. Even if there are other sides who are strong as well, these two teams have been very consistent recently. If a side deserves the title it is either OM or Bordeaux... with us of course. But, there are other sides who are doing well like Paris or Toulouse.

Do you know any more about your future at OL?
I'm concentrating on the end of the season for the moment. I'm 34 years old and nearer the end of my career than the start. I'm focusing on my performances, as captain of the side I have responsibilities. I have nine matches to go, or at least be ready to help the side out. Afterwards everything depends on the coach. I still have one year left on my contract, up until June 2010. There are always, like last year or two years ago, other solutions for me to find and then take another decision at the end of the season. But at the moment I cannot allow myself to focus on me. I still haven't made my decision. It's always difficult. I feel that I am still capable of playing as I have done since the start of the season. From then on, I will do my best to play well in each match that the coach wants me to play in. For the moment I'm focused on Le Mans and working hard. In any case, I was really touched by the homage from the supporters on Sunday. I wasn't expecting it. The support of the public could sway my decision.

A qualification for the Champion's League could be an argument that would decide you...
No, that wouldn't change anything. Of course, it is great to play in the Champion's League. If I stay at Lyon and don't play in the Champions League, it's no big deal. Why not try out the UEFA Cup for a change. I have a history with the club and I hope it finishes up in the best possible manner.