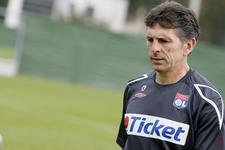 Taking advantage of the international break in order to prepare for the final run in and a possible eighth title of French champions, Claude Puel spoke to the Press this afternoon.
How is the injury list looking...
Jean-Alain Boumsong should be back in training next week. Fabio Santos is also working hard, but the healing process is longer. Even if it is not too much of a delay, we need this extra time for his injury to heal. François Clerc is resting, he was called into action quite quickly and needs more time to recover. John Mensah went back to Ghana for them to confirm that he is injured and, as we feared, the National team coach tried everything to get him to play. We stuck to our guns though and John should be back tomorrow. Cesar Delgado is still following his programme, I think he should be back in training next Wednesday.

What are you doing this week, as there is no competition?
For the moment things are going fine, we are doing intensive put good training sessions. We have reduced the number of sessions but they are still aggressive and dynamic. We are always looking for quality. We are doing a lot of running and workshops on conserving the ball. Some iof the youngsters from the CFA squad have frequently joined in the sessions.

Has this break come along at the right moment?
For some players it has, but we half of the squad away on international duty. Some of the guys will be playing two matches, on the other hand others will be playing less and will start to lack fitness. It could be a problem. We'll be getting our players back one or two days before the game against Le Mans. It's never easy preparing for a game in these conditions.

Karim Benzema is a serious contender for a place up front for France. A goal from him would be good news for France and Olympique Lyonnais...
It's not just a question of scoring, first of all we'll see if he plays. I don't think the coach has announced his side yet. Karim just needs to get back into form, when he does that he'll start scoring again. Systematically looking to score is not the most important, even if a striker always likes to score. What is important is getting your form back, finding the right sensations, putting in effort, then the goals will come naturally.

Hugo Lloris is second fiddle in the National side. What do you think about that?
That's just how it is, the National team coach has made his choice and that has to be respected. We know he is in form and more than deserves his place at the international level. One day he will get his chance and he will grab it.

The Rennes player Jimmy Briand suffered a serious injury yesterday with the National side. Are you worried that could happen to one of your players?
I am past worrying, with what has happened to us since the start of the seasons we're vaccinated. Of course we want to see our players come back in good health. But, we've shown that we can adapt even if we would have preferred avoiding the situation. The international matches have come along during a busy period. It's always difficult to deal with and you often see injuries. Either the players do not have the time to rest, or they do not have enough time to put in the necessary work, like Pjanic. He's away on international duty when he really needs to be here working hard. It's always a problem.

There are 9 matches to go in the L1. What do you think about the programme of matches you have coming up?
It's interesting as i twill be difficult with important games away from home against direct opponents for the title. Let's not beat about the bush, each and every match will be important. It's a great run-in as far as motivation is concerned as we will not be allowed to let up. It will be difficult, I don't think OL have had such a difficult run-in ever, which will give the title more value if we manage to win it.

Who is your direct opponent for the title?
From Rennes to Marseille, they are all very strong, with teams like Lille who have virtually no international players and will be able to give it their all. It's going to be tough, each team will have their chance. It will be the side who are the most consistent over the nine games that will win the title.

The season is not over yet but there is already talk of OL's transfer plans. Do you have anything to say about the recruitment...
We always have an eye on it, but this isn't the right time. We always have leads to look at, but first of all we'll be looking at the existing squad and see which players will stay and which ones could leave. It's just what happens at a club when preparing for the following season.

Anthony Mounier met up with the club directors yesterday. Do you have any news on his future at OL?
Anthony is part of the squad and he is very important. We spoke to his agents yesterday. We'll speak to them again a little later on to see what he is expecting.