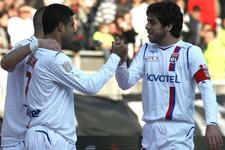 OL got back to winning ways thanks to two goals from Ederson (13') and Mounier (71') and reassured themselves by not conceding any goals, despite the whole new central defensive pairing of Bodmer and Toulalan.
Claude Puel was faced with a problem in the centre of defence, with Jean-Alain Boumsong and John Mensah out injured and Cris suspended. He therefore went with Jérémy Toulalan and Mathieu Bodmer at the heart of the defence. On the right hand side of the attack, Chelito Delago was preferred to Kader Keita.

When the teams steeped out onto the pitch, the Virage Nord unfurled a magnificent tifo in honour of Juninho. Kim Källström was the first into action with a shot from 20 metres out which went just over the bar (3'). The Swede then fired in a corner for the head of Ederson which went wide (8'). Ederson, was able to break down the right and cross but nobody was able to pick up on it and the ball went out for a throw-in (10'). Chelito Delgado fired in a left foot cross towards Ederson who was able to control the ball with his chest and rocketed a half volley past Richert (13')!! Erding broke towards goal but was flagged back for offside (21'). Sverkos then hit a fantastic volley (23') which was perfectly on target and took a magnificent save from Lloris to take care of the danger. Juninho glided past Pitau then tried a shot from 20 metres but his effort went well over (35'). Ederson dropped off the ball to Källström who shot, but Richert saved without any trouble (36'). Some brilliant play from Ederson saw the ball come to Chelito who back heeled to François Clerc, whose shot was saved by Richert (37')! The half was brought to a close with the score at 1-0 to OL. Gerland was looking for a second goal from Claude Puel's players in order to relax.

Erding was played in behind the OL defence by Maurice-Belay, but was stopped by Lloris (50'). A narrow escape! Kim Källström tried a right foot shot, but his effort went well wide of the Sochaux goal (54'). Karim Benzema broke down the left flank and played a cross in to Delgado whose flicked on header just missed (56'). Benzema found Delgado just at the limit of offside, but the Argentinean rushed his effort and was unable to find anyone with his cross (60'). After a mix-up between Clerc and Toulalan, Sverkos picked up the ball and shot, but Lloris once again was there to save OL (65'). Ederson, who had picked up a number of knocks over the course of the match, came off for Anthony Mounier (664). Stéphane Dalmat rocketed in a cannonball effort from a free-kick which Lloris was forced to punch away (68'). Sochaux were clawing their way back into the match and Isabey came close to equalizing with a header from six metres out (70'). OL picked up the ball high up the field, from which Juninho crossed for the head of Mounier, Richert pushed the ball away but the young player followed it well and was able to score from close range (71')! Gerland was able to relax! After some close play from Sochaux, Tulasne found himself in shooting range, but his effort went over (79'). Hugo Lloris was in absolutely fantastic form this evening and won yet another duel against Erding (80'). Replaced by Pjanic, Juninho received a standing ovation from Gerland (86'). Källström tried a volley, but Richert was easily able to pick out the ball (87'). Monsieur Thual brought the match to an end with the win going to Lyon, and OL therefore holding on to their 1st place in the L1!