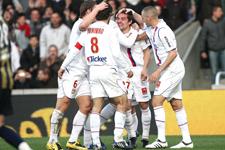 Read all the reactions from the OL camp after the victory over Sochaux.
Jean-Michel Aulas
It's true that the match was difficult. The players did not win brilliantly and they know it, but they did what they had to in order to win the game which at other moments could have turned differently. It's true that when you are in a negative spiral, as we were, your frame of mind and the psychological aspect sometimes take more importance than the physical aspect. Hugo (Lloris) put in a fantastic performance and the other players hung on. They fought for this victory which did a lot of good to the team.

Jean II Makoun
The victory is very important, especially at home. I know that we didn't play well against Auxerre and that recent home performances have been poor. We have always accepted our first place, even in our poor periods. We did what we had to in order to regain our first place today. The squad will break up now for the international matches, but we will have to come back strong for the final run-in.

Claude Puel
This victory will do a lot of good to the squad. From a purely mathematical point of view the result is interesting and it puts a stop to the negative spiral that we were in. No we have to keep things positive. Our next match will be very important, but we have two weeks to recuperate and prepare for it. We suffered for this victory, especially in the second half and not everything was perfect, far from it, but we'll take this victory as it did us a lot of good.

Ederson
I took a knock to my ankle in the first half, but kept on playing. In the second half I took a knock to my thigh which really hurt and I was unable to accelerate. I think that the tea deserves praise for all the efforts that were put in. We played as a team. We had to look for passes behind the defence in order to get past this opponent, when team's come here they always play with a defensive block that is difficult to break down. You have to draw them out and this is what we tried to do tonight.