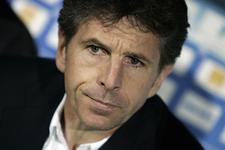 The OL coach has noted that his squad have rediscovered a certain freshness this week...and he is hoping that they will show that against Sochaux...
The injury situation
« Mensah and Fabio Santos will start running next week. John had to go back to Ghana to prove his injury. Boumsong should be back out running in the middle of next week. Govou is in St-Raphaël for his physiotherapy ».

What do you think about the absence of Cris and Boumsong ?
« I don't even bother speaking about it any more when these problems occur. We just look for solutions and we adapt. This has been happening for a while now. We pretty much succeeded in dealing with these problems so far. There are always possibilities ».

Have the players been able to recharge their batteries ?
« These two days off were needed. The players are a lot fresher now, whic hthey have to show out on the pitch. We hadn't been able, beforehand, to rest certai players like Boumsong or Cris ».

Have you tried to put a positive spin on the last few days ?
« Objectively, all the cards are in our hands. If we respect our opponents, everything else just depends on us. We have to put in a good performance on Sunday and take all three points. We've dropped too many points at Gerland and have to change that tendency. Taking points at home is a necessity as far as the league is concerned. We also have to put on a better show for our supporters ».

What needs to be done?
« We have to play more freely when we are attacking, really push on with intent. The animation is important, the collective desire to get up the field and put a certain amount of rhythm into the match. It's not just about putting on 10 forwards, that doesn't work. We have to maintain constant pressure on our opponents. It's up to us to put all of this in place. The squad is feeling better, you can feel that on a daily basis. »

Have you though about picking a smaller squad ?
« No. I want everyone to be concerned and take everyone into consideration. Some of the younger players often go back to the CFA squad. All the professionals will stay with the first team squad until the end of the season ».

Is Réveillère apt ?
« Why not. He has played three matches with the CFA side. The games went well. He just needs a bit of confidence when going into a tackle. But, with the ball at his feet things are looking good ».

A word on Sochaux?
« They have a quality side and are playing well at the moment. There is a good mix of youngsters and experienced players and what they are doing at the moment is very interesting. The key to the match? We have to refind our form and show a real desire to make the difference and impose respect. It's all about what we are capable of doing. The key, depends on us. Do I have any regrets about the composition of the side I started with against Auxerre? No. I don't believe it was a problem of physical fitness ».