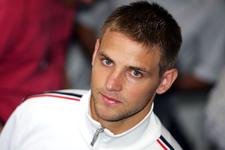 Claude Puel gave the squad two days off. Did that help?
Yes, we really needed it. It was important for us to be able to recharge our batteries with our families. Everyone thought about something other than football. We're in a bit of a rut and the two days off really helped.

You are still top of the L1. Is that important?
Yes, despite our poor performances, we're still in the lead, that's positive. That must mean something and we need to realize it. There are only 10 matches to go: we're going to defend our first place to the end, it only depends on us, we have to go out and win the title. Our objective is not to wait for the results of the other clubs, but to go and take all three points every weekend we need to win the league. If we want to be sure of holding onto our first place we will have to win all of our remaining matches. We will have games against our closest rivals, it's up to us to show them that we are the best and that we deserve the title. There are a lot of teams in our wake and that is a good thing, there will be a lot of matches between these sides at the top of the league. The end of the season is looking exciting. We are well aware that everyone wants to see Paris, Bordeaux or Marseille win the title, that almost puts us in the role of outsiders, us against everyone else, that just makes us more determined to win the league, for us.

What are you doing to bring back your confidence?
Whether it be at home or away, we are just not « in form » at the moment. This morning we spoke a lot about it in the dressing room. Everyone gave their point of view, we're trying to take positive things out of the situation in order to get back on the rails. It's not easy as we've had a lot of poor performances in the past few weeks. We have to forget about them and move forward. We're loooking to install a different atmosphere within the squad, a different philosophy. We have to realize that we are in good health, we have a fantastic job and that there is more to life than football so that we can be more positive and focus on the job in hand. We have ten matches to play in order to take our 8th title in a row, it would be extraordinary. We have to move forward.

This morning, you trained in the centre of defence alongside Jérémy Toulalan. Could we see that line-up on Sunday against Sochaux…
Our defenders haven't been spared their problems this season. In the centre of defence we have rarely had everyone operational at the same time. I wanted to play in the midfield or further forward, but because of the injuries I'll be playing at the back. Toulalan should be alongside me. I don't even know if he has already played in that position. It's not going to be easy but we'll do our best even if it will be complicated. In order to complement one another you need the automatisms that are created when a central defensive duo play together frequently. We'll have to keep talking. We're intelligent, it should work out ok. Toulalan has all you need technically, physically and tactically. I'm not worried about him. The style really doesn't matter, but we need to take all three points on Sunday in order to be able to work calmly over the break that is coming up.