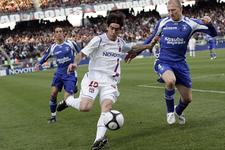 Read the reactions from the OL staff and players after the defeat at Gerland to Auxerre.
Claude Puel
It's difficult for the players. It was a match that should have allowed us to get back on track in the L1 and think about a different competition. We were not aggressive enough from the start. There were good intentions, but without any rhythm changes and our play was far too lateral. We were unable to break through the Auxerre defensive block. The first half hurt us as Auxerre scored from their first real chance. In the second half we came out with other intentions, we had chances to break through, but we were missing that little extra something which would have allowed us to score and get back into the match.

Jean-Michel Aulas
I came to training yesterday as I felt there was a risk of something happening after the disappointment of the match against Barcelona. We did all that we could to try and get the team motivated and giving them enthusiasm. Unfortunately we saw that there was just that little spark missing. The team seemed tired, physically and mentally. We have racked up a series of defeats which is not good and has put a lot of weight on the player's minds. Everyone is disappointed and tense. Tonight could get even worse, as Paris Saint-Germain can go top. We have a lot of respect for this Auxerre side who put in a very good performance. We're on a poor run, but all great teams suffer this type of period. We have to get over this disappointment which follows from three poor performances. We will be analysing the situation, but there is no use criticising anyone.

Yannis Tafer
We tried to play and push forward, but were up against a very defensive Auxerre side who played on the break. They then managed to score just before half-time. We tried to find space and move forward but were unable to do so. We're all disappointed with the result, obviously. It is not a good result for us as there is a chance we could lose our first place in the L1. We really have to get down to work.

Hugo Lloris
We didn't make the match easy for ourselves. It was very complicated. We had trouble picking each other out and getting forward quickly. Tonight we defeated ourselves as Auxerre didn't really show much apart from some counter attacks in the second half. They came to get a draw and are leaving with all three points, that's great for them. We were unable to put any pace into our play and seemed to be going in slow motion. We will have to start asking ourselves questions, think about things hard and move on.