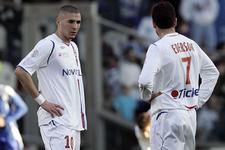 Disorganized up front and nervous at the back, Claude Puel's men were caught out by Auxerre, despite Hugo Lloris saving a penalty.
Cliquez ici pour lancer le live audio
At the kick-off of this OL-Auxerre, the Lyon side was made up of the same eleven players that started the match against Barcelona last Wednesday. Auxerre were, themselves, missing a number of players (Riou, Mignot, Narry, Oliech, Quercia).
After just a few seconds of play, Juninho tried a ground level cross in front of goal, but Karim Benzema was just too far away to play the ball. Both sides had trouble getting into the match and chances were pretty much inexistent (14'). Juninho tried his luck from long range, but the ball went at least half a metre wide of Sorin's goal (15e). The spectacle was not to the liking of the public at Gerland, there was no real dangerous attacking play as the 22 players seemed to be going through the match like sleepwalkers (32'). Karim Benzema tried to change all of that, helped by a good pass from Grosso, but the ball finished up going out for a goal kick (33'). Juninho tried, once again, his luck from more than 30 metres out, but his effort flew over the bar (40'). Benzema picked up the ball just outside of the penalty area and fired a shot off, but Sorin saved the ball with ease (41').
Jelen, played in behind Cris, in the penalty area fired the ball past Lloris to open the scoring (42').
Fabio Grosso crossed in front of goal for Juninho who tried a shot without controlling the ball, but his deflected effort was easily caught by Sorin (44'). The first half was brought to an end with whistling ringing out from the stands at Gerland as the show was far from entertaining.
At half-time, Mathieu Bodmer came on in place of Jean-Alain Boumsong. A free-kick from Juninho was flicked on by a header but Sorin was present to save his team (47'). Benzema broke past his defender and tried an effort, but his shot when agonizingly wide of the target (50'). Some good play from OL finished up with a half-volleyed effort from Ederson, but the shot flew directly to the keeper (57'). Following a corner, Delgado crossed for Grosso to volley but Sorin was once again able to push the ball away (61'). Jelen came up in a one on one with Lloris, the OL keeper won his duel and was able to clear the ball at the second attempt (63'). An Auxerre corner was flicked on at the near post towards Jelen who fired in at goal, but his effort went over the bar (64')... Ederson tried his luck again but Sorin was able to pick the ball out of the air (67'). A great one-two between Makoun and Juninho saw the Brazilian fire in an effort which was magnificently saved by Sorin (74'). OL pushed their opponents hard but neither Toulalan blocked, nor Juninho who missed the target were able to equalize (78'). Sorin gave away an indirect free-kick inside his own penalty area after holding onto the ball for too long. Juninho shot after but hit the wall (84'). After an unbelievable mix-up between Grosso and Cris, Lejeune broke through on goal and was brought down by Hugo Lloris (90'). Penalty! Hengbart took the penalty but Lloris saved!
Just a few minutes later Lloris came out of his box to play the ball, but the ball fell to Kahlenberg who lobbed the OL keeper (93'). OL were KO!