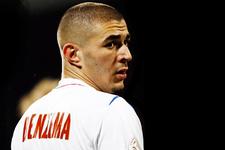 Just before training, Karim Benzema stopped by the Press room. He looked back at the match against Barcelona...he also announced his intention of staying at OL next season...
OL have been eliminated from the Champions League. Karim was unable to score against the Catalan side. What can be said about these two facts ? « We're very disappointed. We would have appreciated a different scenario. We now have an important match against Auxerre. The elimination, even if it is more difficult for our heads than our legs, is starting to disappear. For me, it is the fact that I didn't score in the two matches. I missed a lot of chances. I could have scored, especially in the first leg just after Juninho's goal when the defender missed the ball. The controversy surrounding the first leg ? These things happen. I had something in mind, I tried it out. I don't always play that way in those situations. It didn't work out. For about three days afterwards, I was getting hit with criticism. It doesn't matter ». Did the pain he felt in his thigh handicap him ? «No. There was no pain that disrupted my play. I was able to accelerate. There was not that much pressure on me either. These are just big games that have to be played ».

Alone up front, the OL striker accepted that his task was difficult. « Games like this are difficult to play in when you are all alone up front with guys on the wings doing a lot of defensive work. Me, I like to have the ball at my feet . I'm not the kind of striker who stays in the box waiting for the ball. It's true that we changed our style of play, but I'm adapting ».

Karim wants to forget but keep the lesson in mind . «I found out that the level at Barcelona is extremely high. I want to work hard to reach that level », before announcing: « I'm going to stay at OL . I still have things to learn and steps to make. I feel good at OL; there are good people around me; I still have time. I could not have told you that I would make my decision after the game against Barcelona. I won't change my mind, whether we win the L1 or not, it doesn't depend on the qualification of the National side for the next World Cup either . At 21 years of age, I am still learning. I'm going to get better, I will progress. At OL, I am playing all the time, in big matches, here I get to play in the Champions League ».

Silent since his goal against Nancy, affected by the knock that he took to his thigh against Rennes, Karim obviously wants to score admitting that the title is the most important thing. « We have to realise that the league is very tight and is going to be difficult right to the end. I'm going to give everything I have in order to score goals . I still want to be the top scorer in the L1, but if I'm not and OL win the title then that is just fine with me ».