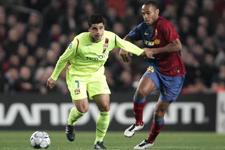 All the reactions from the OL camp on OL TV.
Alain Cavéglia: The best side won. Juninho's goal brought a glimmer of hope but OL were unable to score a third and the match changed thereafter. OL were up against the best team in the world, but they had opportunities, unfortunately there were some bad decisions when it came to the final pass.

Jean-Michel Aulas: The club and the players are incredibly disappointed. At this stage of the competition, the matches are always difficult. Barcelona have a fantastic side, OL were not able to put in the performance we had hoped for, there were a number of difficulties right from the kick-off. But what must not be forgotten is that OL have been the best French club of the last 10 years, everyone must be associated with this failure. Questions must be asked. Having a stadium like the Nou Camp really helps. On top of that, their fiscality is a real advantage for attracting the best players. We are very disappointed but there should be solidarity in defeat as there is in victory. Tonight, we have seen that there is a whole lot of things that need changing in French football. We have to get over this failure in order to take the right decisions, not only for OL but for French football in general. I'm also very disappointed for Juninho. I would have preferred him to go out on a better note.

Mathieu Bodmer: We received a big slap in the face. The first half was very complicated; when they changed gears, they went and scored two goals. At 4–2, we thought we could make them start to doubt, but we couldn't get that third goal. Each time they got into our box, it was difficult stopping them. We're disappointed, but we have to pick ourselves up and quickly.

Kim Källström: It hurts losing when you are playing in this competition. But, Barcelona proved themselves to be better than us. There wasn't much that we could do. We showed in the first match that there was something to play for. There is the same feeling as last season, that we let the qualification slip away in the first leg. This elimination shouldn't change how the rest of our season goes. We have a squad capable of winning the L1, we are professionals.

Ederson: We are very disappointed. Tonight, Barcelona were stronger than us, we weren't able to stop them playing their game and they made us run. We had to avoid conceding the goals we did at the start of the match; it made things very difficult afterwards. The performance we put in tonight was not the one we could have.

Fabio Grosso: Our first half performance was poor against an excellent football team. When we came out for the second half, we said to ourselves that we had to do something and we did. If we had managed to score with 10 minutes to go, things would have been different. Our second half performance was much better, we should our character. We leave this competition with our heads held high, we have no regrets.

Cris: There is no disappointment, we knew that they were better than us. We put in a lot of effort, which was important. Barcelona are a team that likes to play with the ball, and they play as a block. We were not able to do that, and we saw the difference in comparison to the great European sides. We played at our level, but Barcelona were above that. It's the worst defeat of my career, it's a defeat that is difficult to accept.

Jérémy Toulalan: In the first half we were not up to scratch, we didn't start the match well. In our duels, in our play, we just weren't good enough.

Jean-Alain Boumsong: We came up against a side that was stronger than us. Barcelona were at a different level. It's a shame but it's logical. In the first half we were unable to develop our style of play, to clear the ball or keep possession. Overall, it was not a good performance.