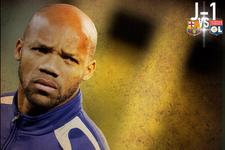 Samuel Eto'o, who is celebrating his 28th birthday today, and "Pep" Guardiola spoke to the Press about tomorrows match.
Do Barcelona have an advantage after the draw in the first leg?
Our aim is always to win. So I don't really think that Barcelona have an advantage in particular before the return leg. We will not be going out to defend the 1-1 score line. You have to understand that a draw for Barcelona is considered as bad as a loss here.

Do you think that you will find your shooting boots?
There a periods when a striker scores and others when he doesn't. There is no point making a big fuss about it. Of course I want to score as quickly as possible. I know that I am going to score soon enough, I'm not worried.

Have you considered elimination?
We have a lot of respect for OL and they are capable of winning. They deserve their respect in the same way that Barcelona, Bayern or Liverpool do. They played very well at the start of the first leg. As far as we are concerned, Iniesta is back and we are stronger for it. We will still have to be wary though.

Is there a player who sticks out for you in the OL squad?
No, I know that a lot has been said of Karim Benzema and he deserves his praise, but I'm concerned about the whole squad. Even if players like Juninho, Makoun and Toulalan can put in great balls for Benzema.

A word about the defensive work of the Barcelona forwards?
We defend very high up the field and that makes things easier for our forwards. We reposition ourselves very quickly around the opposition box. We defend less well around our own area.

Will set pieces be important?
We all know about Juninho's capabilities, but we have good free-kick takers in Xavi and Alves.
[IMG43672#R]
Josep Guardiola
"I have a lot of respect for this OL side "
What will you have to do to beat this OL side?
We have to be dynamic, to keep possession and to avoid committing fouls as Juninho can turn a match from a corner or a free-kick.
Will we be seeing goals tomorrow at the Nou Camp?
We're going to try and score. Olympique Lyonnais are dangerous as well. We will be attacking from the starting whistle then we'll see how things have gone after 30 minutes. My intuition tells me that OL will wait for us to lose the ball and hit us on the counter attack.

Have you considered elimination?
I have thought about it but I prefer to focus on qualification.
A word about OL?
They are one of the best sides in Europe. In the first leg they put us in a lot of difficulty and forced us to take risks. I hope that I will not have a nasty surprise tomorrow like we have had recently. The best form of defence is attack. If we were forced to defend though, it would be because of the quality of Lyon's play.
Do you think we will have the chance to see the talent of Benzema at the Nou Camp?
He is very, very talented. He makes me think more of Thierry Henry when he was at Arsenal than Ronaldo.
Do you have an eye on the final?
I'm concentrated on the match against OL. I have a lot of respect for this OL side, it's going to be a very tight match. Quite frankly, I don't think Barcelona are favourites. The role of favourite doesn't mean anything, it's just a journalistic turn of phrase.