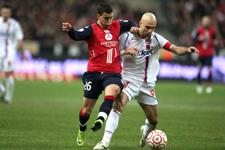 Read the reactions of the OL players after the loss to Lille at the Stade de France.
Jérémy Toulalan
We had our chances but they were just more realistic than us. If you look at the match as a whole, I think that we controlled it even if they did have they chances. There's not a great deal to say really, they were more efficient than us, we had our chances but didn't manage to put them away. I think we were just a little clumsy. It's never a good thing to lose, especially before a Champions League match, as it is difficult competing in the league after a European match. Things don't look good when you lose two matches in a row, but it is in difficult moments like this that you see how great a team is.

Jean II Makoun
Both matches against Lille were very good. They were a lot more realistic than we were, so you could say that they deserve their victories. We managed to create a great deal of chances, but they were able to do what they had to in order to win. During our good phases we pushed hard but the ball just wouldn't go in. We cannot let our heads drop. We have to use what went well and rectify what didn't. We have a match on Wednesday and we have to concentrate on that, afterwards we know that we have two L1 matches in a row. We will have to take maximum points.

Ederson
Even before we conceded we had a lot of chances, but their keeper was in great form and the ball just wouldn't go in. That's football. We then conceded the goal from a cross, it really hurt us but we kept pushing and creating chances but the keeper stopped everything. Now, we must focus on Wednesday. I just hope the goals that did not go in during the two matches against Lille will go in on Wednesday. We will keep working hard.