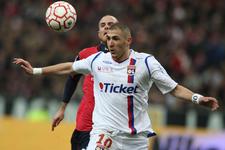 In an open encounter during which Claude Puel's players created the best chances, it was in fact Lille who won the match thanks to their realism and efficiency.
Cliquez ici pour lancer le live audio
Claude Puel had to make do with the absences of Hugo Lloris, out with a fever, and Jean-Alain Boumsong who suffered an injury to his thigh. It was because of this that we found Rémy Vercoutre in goal, just like three days ago at the Stadium Nord. It was the big come back for François Clerc at right-back and Mathieu Bodmer in the centre of defence. Up front, Karim Benzema returned after the injury he picked up against Rennes last weekend. The OL striker was aided up front by Delgado and Keita.
François Clerc in the opening minutes that he had no apprehension about his return, tackling at the feet of Bastos early on. After some superb work by Chelito Delgado down the left flank, the Argentinean crossed in front of goal for Kader Keita who was unable to hit the target (12'). Juninho tried his chance from a long range free-kick, but didn't hit it well enough and it flew wide (14'). Benzema then broke through in the centre of the park and played the ball off to Juninho, but the Brazilian's shot was blocked at the last second (17'). Following an intervention by Vercoutre at the feet of Frau (23'), the two men stayed down on the floor before picking themselves up. Bastos played in a free-kick but Rami's header flew over the bar (27'). Another free-kick from Bastos then bounced in front of the OL goal before going over the cross-bar (37'). Obraniak recuperated the ball within the OL camp and then fired directly at Vercoutre (41'). Rami then put in a horrendous tackle on Chelito (45') which brought him a yellow card. Debuchy then hit a half-volley from the right hand side of the box, but his effort went well over (46'). A quite open first half was brought to an end with score at 0-0.
Karim Benzema, who seemed to be still suffering from his injury to the hip, did not come back out for the second half, being replaced by Ederson. After a poor clearance from Juninho fell to Cabaye who crashed an effort into Rémy Vercoutre's cross-bar (48')! Breaking behind the OL defence, Bastos came up alone against Vercoutre only to lose his duel against the OL keeper (52')! Ederon then had a shot punched away by Malicki (59'). Some good work from Delgado saw the ball crossed into the penalty area, but Juninho was just unable to reach the ball (59')...
Michel Bastos fired in a cross into the OL box where Vittek, in between Bodmer and Grosso, rose to place a header into the net (60')!
Lille had taken the lead against the run of play. Juninho was then taken off for the young Yanis Tafer (64'). Keita picked up the ball in the box, but Rami came back just in time to take the ball away from the Ivory Coast player (72'). A fantastic piece of work from Delgado saw him play in Tafer just onside but the OL youngster messed up his effort on goal (76'). What a shame! Kader Keita once again had a great chance but Malicki pulled off yet another save (77'), then saving with his feet from Edesron (80'). Malicki slipped when the corner was played in, but Cris was unable to get his header on target (80'). OL were creating chance after chance! Ederson resisted a tackle from Rami and was able to fire in a shot, but once again Malicki was there to stop OL from scoring (87')!
Vittek flicked on a clearance by Malicki into the path of Bastos who then fired a left foot shot past Vercoutre (89')! A terrible blow for Claude Puel's men!
A final free-kick from Källström flew directly to Malicki (93'). The match was bought to an end, with OL suffering an annoying defeat after lacking realism and efficiency tonight.