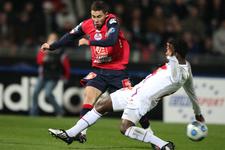 Falling behind twice, OL managed to get back on level terms on both occasions through Makoun (24') and Mounier (45'). In the second half, both sides had chances to win but it was Lille that took advantage scoring through Fuavergue in stoppage time (93').
Cliquez ici pour lancer le live audio
As was expected, Claude Puel made large changes to his starting line-up for the Coupe de France match. Rémy Vercoutre was in goal, behind a defence made up of Mensah and Boumsong in the middle with Lamine Gassama on the right and Grosso on the left. In the midfield, Makoun joined up with Källström and Ederson. Piquionne was at the point of the attack with Mounier and Pjanic helping him out.
Mr Bré brought the game underway on the impeccable turf of the Stadium Nord. Hazard, played in well by Balmont, broke away but was stopped by the return of Grosso and Mensah (5'). Neither side was really able to carve out any chances at the start of the match (16').
On another counter-attack, Hazard sped past the OL defence and played in Bastos in the middle. The Brazilian side footed his shot into the goal to open the scoring for Lille (22').
Straight from the kick-off OL obtained a corner.
Fired in by Pjanic, the ball was flicked on at the first post by Mounier, flying to Jean II Makoun who had just to nod the ball into the back of the net (24').
THE EQUALISER! John Mensah picked up a thigh injury and had to leave his place to Cris (28'). Yet another tough break for the Ghanean. Kim Källström tried his luck from a free-kick just twenty metres out, but his effort went just wide (30'). Hazard, in great form, slid the ball back to Balmont who shot instantly, but his shot flew over the bar (41'). Michel Bastos almost surprised Rémy Vercoutre from a free-kick, but his effort went just millimetres wide of the post (44').
Hazard, almost unstoppable, went on a mazy run which he finished off by firing in a shot that hit the back of the net (45')! Lille were in front!
INCREDIBLE!
OL manage to win another corner and after a poor clearance, Mounier found himself in an ideal position and was able to fire in the equaliser (45'+2).
The first half came to an end with both sides having being ultra realistic.
Hazard was driving the OL defence crazy and playing in perfect passes, from one of which Debuchy fired just over the bar (48'). Fred Piquionne managed to carve out a chance, but his effort did nothing to worry Butelle (49'). The fantastic Hazard, tried his luck once again but this time Rémy Vercoutre managed to block his shot (56'). OL then managed to create a great opportunity between Piquionne and Källström, but the Swede's shot was blocked at the last minute (74'). Pjanic swung a free-kick into the area where Boumsong threw himself at the ball, but Butelle pulled off a magnificent save to keep his side in the match (79'). Lille, who had not managed much in the second half, then hit the bar after a shot from Obraniak (84'). What a chance! Mounier was almost able to put OL ahead after a poor back pass from Balmont, but he was not able to finish off (86'). Delgado then Källström both fired in a few rocket like shots from distance, but Butelle was on fire and kept them both out (87').
Just a few seconds before the final whistle, Hazard zeroed in a perfect cross which Fauvergue then fired past Vercoutre (93'). What a scenario!