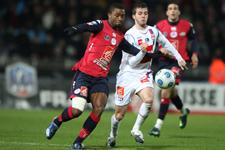 All the reactions from the OL camp.
Claude Puel
Of course we are disappointed because I feel that we played well, especially in the second half, controlled the match and had the better chances. They hit our crossbar, but on the whole I feel that we dominated. Conceding yet another goal in stoppage time is difficult to take as we had put a lot of effort into the game. We weren't able to rest certain players and we lost Mensah. It wasn't a very positive evening.

Jean II Makoun
We were a little worried that we would be lacking rhythm with all the changes that had been made, but every time we went behind we showed our character and our playing capabilities. We are very disappointed, but that's football. Before they scored at the end, Mounier had a great one on one chance and their keeper made two fantastic saves. Then we conceded in stoppage time and it really hurts, maybe we were already thinking about extra time. Now we just have to forget about it and focus on Saturday's game, even if it is against the same side.

Anthony Mounier
In the second half we had a lot of chance. Their goalkeeper put in a really great performance. It's true that I had a chance to kill off the match when I anticipated Balmont's headed back pass, but the keeper came out quickly and I wasn't able to lift it over him. We are competitors so it's very frustrating. On top of everything we are the holders and we now know that we won't be back in the Coupe de France until next year.