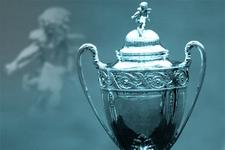 In 4 days, OL will be up against Lille twice. The first match is on Wednesday night in the Coupe de France, one of the 3 competitions that is still open to the seven times French champions...
OL are jumping from one competition to another . Moving from the L1 to the Champions League, returning to the L1 before playing a last 16 match in the Coupe de France, then taking part in another L1 match, against the same opponent, before the return leg against Barcelona … a schedule that is as crazy as it is exciting for the ambitions of all. A busy schedule that could remain so for another few weeks … or which could ease up a little, or a lot on the night of the match against Barcelona.

After Rennes, Lille hove into view . In the Coupe de France first of all. A cup of which OL are the current holders. This cup which has been disputed over the course of a few seasons in one match, at home or away. 9O minutes, or even 120 and maybe a penalty shoot-out. It is not easy to win away from home against a side of the same standing. Since 1990, when the return legged games were abandoned, OL have lost 6 out of 8 matches away from home. Their last qualification? At Ajaccio in 2006.

This encounter will also be special. Claude Puel and Jean II Makoun are heading back to Lille for the first time since their departure last summer. It will also be special , as the two protagonists will be facing each other again 4 days later at the Stade de France in the L1. Special, always, because of the quality of the Lille side. Special, finally, because OL, still handicapped by numerous injuries, need to rotate their squad in order to remain fresh in view of their different objectives. Toulalan, suspended, and Benzema, injured against Rennes, will not be making the trip to Lille. Need of fresh legs brings about changes. But, will qualification be possible if a number of first choice players are left on the sidelines?

Lille have had trouble on the road, but remain very strong at home. One single defeat and three draws in 13 matches. In other words they have dropped 9 points, where OL have dropped 12 with their six drawn games! This side showed their collective and individual qualities at Gerland in the L1 game. Bastos and Obraniak both can shoot with tremendous power. In the midfield, Balmont, Mavuba and Cabaye may be short in stature, but are giants in their style of play. At the back, Rami has all the qualities to defend well and be able to score from set pieces.

This match would appear to be complicated for Lyon. But, remaining on course in the Coupe de France would undeniably be a big extra for the French champions. It would fortify almost certainly their mental strength … before facing up to Lille, once again, in the L1 … and before the huge trip to Cataluña.