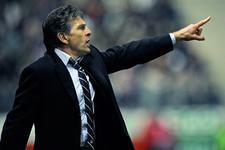 What news do you have about Karim Benzema?
He had an x-ray and a scan this morning which showed up a lesion, but it was neither on the bone or muscular. He took a big knock and has a bruise. We'll be keeping an eye on him, but it looks pretty reassuring. He is out for the Coupe de France match, we'll see how things go afterwards.

What about the other injured players?
Delgado and Fabio Santos are continuing their progression. César Delgado has already picked up the ball again. Fabio Santos will be moving on depending on how he feels, but it looks like it is sorting itself out just fine.

This match at Villeneuve-d'Ascq is a bit like going home …
I'm not going to Castres! (Laughs) It was a good time for me. I'd already been through that at Monaco, now it is Lille; it's part of the job. There is what you feel and the practical side, the latter means that you want to go about things as a professional.

What do you think about this Lille side?
They are difficult to play against and are progressing well. Even if they have been in less good form recently, they are still strong, especially against the big sides. They have had trouble motivating themselves against the teams in the lower half of the table, but against the top teams they are always ready. They have probably had their eye on these two dates for a long time.

How are you preparing for two games against the same team in the space of a week?
For us it is just a succession of matches. They are two different competitions, they will be two different matches. The first is a knockout and the second will be very important after our last result (1–1 against Rennes), and the dynamic that we are in at the moment. These two games are important before the match against you know who … Ideally we will be able to dose things so that we can be in good form for both matches.

Are Lille the best team to be up against before the match against FC Barcelona?
It would have been better to be up against a weaker side, especially taking into account the physical impact, but that isn't the case. With the accumulation of matches, we need to recuperate, organisation will be very important; but against teams like this we cannot take things easy, it will be like it was against Rennes last night: very solid and strong.

Do you have the feeling that, against Rennes, you overestimated the physical capacity of certain players who started on Tuesday?
Perhaps, yes. But it is something that has to be learnt. Aftewards you never know if it is ohysical or psychological. You have to be able to dominate these sort of things.

With Karim Benzema out, Frédéric Piquionne could be at the front of the attack. What are you expecting from him?
Against Nancy, he put in a good first half performance. He did some good things. You have to be able to count on your squad with all the games we have to play. We will be counting on him as we are counting on everyone else.