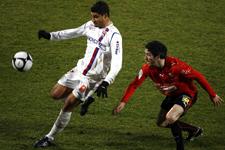 Read all the reactions from the Lyon camp after the draw against Rennes.
Karim Benzema
I took a big knock on the hip just after Kader (Keita) back-heeled the ball to me. I managed to avoid one defender but didn't see the second one who hit me. I didn't feel anything at first but afterwards, when I was replaced, it really hurt. I'm going to have to take a couple of days rest, so that I can come back as quick as possible. It's frustrating as we had this match within our grasp right into stoppage time, but it was a difficult game today.

Miralem Pjanic
We suffered a little, but had chances and were able to score. Afterwards we seemed to be in control and had a number of chances on the break. We seemed to have done what was necessary, but at the end we were really suffering and with the fatigue, even though it is not an excuse, lost two points. We have to get over it and start winning again on Wednesday.

Claude Puel
Rennes have a great defensive block who play deep and are very tight between the lines. We were not able to find any space and the first half was very tame, at times like that you need more technical qualities and more movement to get around the obstacles. We had chances in the second half, but not enough. We managed to score after a great move, but it is really annoying to concede an equaliser in stoppage time, even if the draw was a more logical result.

Ederson
Both sides had their chances, we were able to open the scoring and it's just a shame that we conceded a goal in stoppage time. That's just the way it is, it happens sometimes, but now we have to lift our heads. It is difficult for us as we thought we had all three points and at the end of the day finish up with just one. We have to keep going as we will have more difficult matches before the end of the season.