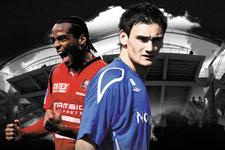 Fiive days after their difficult Champions League match, which was as passionate as it was tiring, OL are back in action at Gerland this Sunday at 21h00 for the Week 26 match in the L1. Against Rennes, there will be no lack of motivation.

The crushing defeat earlier in the season
Nearly five months have gone by since the slap on the face that OL received at the Stade de la Route de Lorient. On the 5th of October 2008, OL just did not exist against the Stade Rennais and Mickaël Pagis even offered himself the luxury of scoring a hattrick against the 7 times French champions. Even if the matches since then have gone by at breakneck speed, Juninho and his team-mates have surely not forgotten this defeat in Brittany.

Rennes, quite strong at Gerland
The Stade Rennais has played quite well in their last trips to Gerland. Guy Lacombe's team are unbeaten in Lyon since the 26th of January 2005 when they lost 2-1. Since them, Rennes have taken one victory - 4-1 in 2006 – and two draws. Last year, OL thought that they had their win until the 92nd minute and an equalizer from Stéphane M'Bia in stoppage time (1-1).

Rennes get the machine going again
On the night of Week 16 and their 1-0 success over PSG, Rennes found themselves in second place of the L1 just 5 points behind OL. Nine matches later, they have dropped off the podium and are now 10 points behind Lyon.
Guy Lacombe's men went through a weak run with two draws in Week 17 and 18, and more importantly a run of four matches without a victory between Week 21 and 24: two draws against Toulouse and Nancy and two defeats against Lille and Le Havre. This run of poor results was brought to an end last week-end with a 1-0 away to Nice with the goal coming from Olivier Thomert.

OL: a run still going
It has to be said that OL are in outstanding form in the L1 at the moment. Claude Puel's side has racked up three victories in a row, against Nice (3-1), Le Havre (3-1) and Nancy (2-0). A great rhythm, which has helped them build up their lead in the L1, with a six point lead over PSG and 7 over Olympique de Marseille and Toulouse.
However, OL have been inconsistent at home since the start of the season, already having conceded 5 draws at Gerland.

OL: In what sort of form?
Five days after their last 16 match in the Champions League against Barcelona, OL are coming back to their daily grind of the L1. The main question surrounds the form of OL after the great efforts that they put in on Tuesday, to put a stop to the Catalan attacks. Because of this, Claude Puel should make a few changes to the first eleven which started in the Champions League. The defence could remain the same, but changes could be made in the midfield and up front, even if César Delgado is out due to a groin problem. Miralem Pjanic and Kim Källström, who came on during the match against Barcelona, could find themselves in the starting line-up, just like Frédéric Piquionne and Anthony Mounier, who have had to bide their time on the bench. Karim Benzema is getting ready for a special evening, he will be making his 100th L1 appearance in an OL jersey.