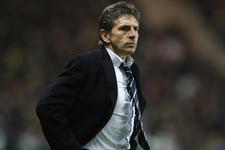 Claude Puel spoke to the Press about the match against Barcelona.
24 hours after the match, what is your analysis of the draw against Barcelona?
My analysis is the same as it was last night. There are no regrets. We will have to turn to the return leg now. We put in a good performance which opens up certain perspectives in view of the return leg. The score is not in our favour, but the game is there to be played for.

Is that what you are going to be saying to your players?
Yes. FC Barcelona remain the big favourites even if the return leg is at the Nou Camp. We know that we will have opportunities. We just have to grab them. But we mustn't forget that beforehand we have some other important matches coming up, the first one of which is on Sunday against Rennes. We will have to take care not to tire ourselves too much.
The return match is in two weeks … In the meantime, OL will play Rennes and Lille twice… Will you be rotating the squad?
Certain players need recuperation time. Others need a lot of rhythm as they have a lot more stamina. It all depends on the profile of the player.

Will any of your injured players be back for the game at the Nou Camp?
I don't think so. Well be having a look at where Mathieu Bodmer is at before then… As for the others, whether it be François Clerc or Anthony Réveillère, they still have a long way to go and I don't think that they will be ready for this encounter.