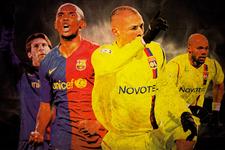 OL are in great form in the L1. Their spirits free, they can concentrate on Barcelona who go into the match on the back of a draw and a defeat in the Liga, having lost Iniesta and Abidal to injury. All the conditions have been brought together for a big upset...
As the much awaited encounter came closer and closer, the hope surrounding the game grew and grew. What if it was possible? If OL could pull of the exploit of beating Barcelona at home. In the last two visits of the Catalans this has not happened. Lyon are more than in control of the L1 having strengthened their lead at the top since the winter break. This OL side are reassuring, even if they have lost Govou and none of the important injured players (Bodmer, Réveillère, Clerc) are set to return.

The French champions have now attacked the most crucial part of their season. In just a few days, the cup competitions could have disappeared from their objectives or continue to make everyone dream. In order for this to happen they will have to, notably, defeat the Catalan side. How can they play to beat them? To eliminate them? Certainly not by respecting them too much and not playing. So, what formula should be used? The traditional 4-3-3 or a more daring formation? Who should play at right fullback? Mensah? Gassama? Or…? The ball, this damned ball that will have to be kept from their opponents. Or, the slightest chances, which will have to be put away. We all know the score. Even more so against such an opportunity. OL will be counting on their European goal scorers, Juninho and Benzema (28 goals between them in the Champions League). They will also be counting the magnificent team spirit of the moment. On their desire to put their stamp on European history. To mark their own history.

Of course, Barcelona have very impressive arguments. There is Messi and all the others. There is also Guardiola, the coach who has managed to reorganise the mess in which the Catalan club was in, by their high standards. And then there is their style of play, which paralyses, asphyxiates the opposition. This style of play and the players who have scored 105 goals in 39 matches! Certainly, Iniesta and Abidal are out injured. Yes, Barcelona have only taken one point from their last two matches. But, the worry still remains.

So, the moment has come. OL have not disappointed this season in the Champions League. They have always shown great things. In their reaction, as much as in their action. Quite frankly, they have nothing to lose from this two-legged encounter. It would be best if they had no regrets after the match, as was the case after the eliminations at the hands of Manchester, or even PSV and AC Milan. These three matches all kicked off the first leg at Gerland and finished up as draws...