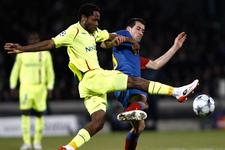 Read all the reactions from the OL players and staff following the match against Barcelona.
Jean-Michel Aulas
Not only were we able to rival with Barcelona, but in the first half the majority of the chances came from us. If we had been a little more realistic, or lucky, we could have easily been 3-0 up quite quickly. Afterwards, Barcelona put us under an enormous amount of pressure. I am very proud tonight, but still have some regrets. Barcelona controlled the ball possession with an outstanding team. We put in a good performance and created a lot of chances. We know that statistically it is easier to create chances against Barcelona away from home. When you look at their stats, you notice that the problems they have had, mainly happened at the Nou Camp. They are a side that never loses away from home.

Karim Benzema

We played well in the first half, with a lot of desire and ambition. It's a lot like the match against Manchester last year, in the second half it seemed like we didn't really want the ball. We conceded and then the end of the match was very difficult. We're satisfied with our performance, as we have proven that we can rival with a fantastic Barcelona team. It's a little annoying to concede a goal at home, but we will go to Spain looking to qualify.

Ederson
I think we put in a good performance in the first half. We were good in all sectors of the team, as well as in our team spirit and frame of mind. We defended as a team and tried to hit them on the break. We even had chances of scoring a second goal, it's a shame that we did not manage that. In the second half, it was tough going, we did a lot of running to recuperate the ball and it was difficult holding on the full 90 minutes. If we want to qualify, we will have to put in a great performance over there and why not create an upset. We will give our best, we must remain confident as we have a great squad and have proven tonight that we can rival with the best.