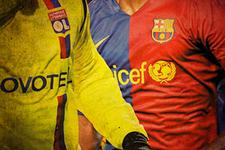 The Barcelona coach Pep Guardiola and the Argentinean Lionel Messi spoke to the gathered Press about tomorrow's match.
Lionel, what do you have to say about Barcelona's defeat on Saturday?
It's a match to forget about. Tomorrow, we have a very important match to play. We know what we have to do.

During the match France-Argentina in Marseille, you were in spectacular form. The French and OL players are forewarned. Do you think that you can put in the same type of performance tomorrow at Gerland?
I have no idea. I think that more than the encounter, both team's already know each other well. Both, will have taken the necessary measures in view of that.

Everyone see's Barcelona as favourites. What is your opinion?
I think we could be eliminated, it's possible. In the Champion's League, all the matches are different. We have to play our match before the return leg at home.

A lot has been said about Karim Benzema. What do you think of this player?
I have often been asked this question. He is a great player. He has a lot of qualities and can make the difference at any moment.

Josep Guardiola

A defeat for Barcelona is rare this season. How wold you analyse this defeat before the match against Lyon?
It's just a defeat, that's sport. These things happen. While we were winning, I kept saying that we had to keep getting better. We lost and still have to progress. What is important now is tomorrow's game. It's a different competition and a different mentality. It's the Champions League. This is the first time I am taking part in it as a coach. For some of the players it is a first time as well.

OL's side has changed since last season and some say they are not as strong as before. What do you think?
Olympique Lyonnais are still a great side. They look like they are headed for an 8th consecutive League title. They play very quickly and have players like Juninho or Delgado. They have a lot of talented players up front. Any distraction will be paid for dearly and let's not forget there are 180 minutes to be played.