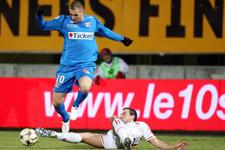 Read the reactions from the OL players after their victory over Nancy.
Karim Benzema
On the whole, we put in a decent performance. We came with the intention of taking all three points and we did. Nancy tried to get back into the game towards the end and that left us a lot of space. On a counter attack, Jean (Makoun) played in a great pass which put me in one on one with the keeper. The fact that I didn't start meant that other guys could play and I had the chance to rest a little as we've played a lot recently and have a big match coming up on Tuesday.

Jérémy Toulalan
We saw that the chasing pack dropped points and that was a good thing, even if, first and foremost, we focus on ourselves. We know that if we remain concentrated things will work out so tonight, even if we had made lot of changes, I think that everyone applied themselves well. A little like the match against Nice, we started the second half quite poorly and then the match changed with Hugo's (Lloris) penalty save. Towards the end of the match we had a lot more space and things were a little easier. Overall it was a good match even if we could have controlled things a bit more. It's good for our confidence, now we just have to recuperate.

Hugo Lloris
It's just part of the match, it was just one penalty. Things went our way tonight and that is good for us. It was an important moment for Nancy who came out in the second half with a lot of audacity and threw themselves into the game. We suffered at the start of the second half, but we were strong and did not get flustered. It's a good thing for the team as we all remained solid. We had a chance to take all three points, to affirm our status and show to the other side's that we are still there.

Cris
This is a pitch which has been good for us Brazilians! Claudio (Caçapa) scored here a couple of years back and this time it was me. It's good for morale. Despite all the changes the team was well in place. We were aggressive and strong and that is what made the difference tonight. We have to be ready to play every match as they are all going to be difficult from now on. Barcelona, well it's another competition. Everyone dreams about this competition, but we are ready. We all know that it is going to be difficult but we can get something out of this match.

Anthony Mounier
We played well in the first half. In the second, they came out in better form and pushed us, obtaining a penalty very quickly. Hugo pulled off a fantastic save when he stopped their effort. I think that hit them hard and gave us a boost. Personally, I was wrecked in the second half and played the match with my head more than my legs.

Miralem Pjanic
I felt good and it was great to start the match. We played well and took all three points which is the main thing. We showed today that we are a quality side, even the players who are normally on the bench. Now, we have to prepare well for Tuesday's match against Barcelona.