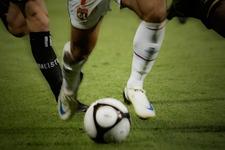 L1, Champions League, Coupe de France...as each match approaches, OL will be jumping from one competition to another. This is the first important period of 2009...The best thing would be to start off well against a Nancy side looking to turn their season around...
In just a few days OL will know . They will know if they will have a busy schedule over the next few weeks. If they can continue to dream of European triumph. If they will still be leaders of the L1. If they are still on course for another double … This is an exciting period. They will be racking up games in which they will have to be in form, up against opponents of different stature. Before meeting the Spanish giants on Tuesday night, they must first head to the Stade Marcel Picot.

At home, Pablo Correa's Nancy are not in top form ! They have taken 15 of 36 points available and have scored only 10 goals. Bracigliano and his team-mates go into the game on the back of 2 defeats in a row and even if they are still positioned in mid table they need to be careful. The first team in the relegation zone is just 5 points behind Nancy. With the departures of Kim and Puygrenier, the squad seems to be falling off the pace. Will Correa start the match with a three man defence again? He will, however, be without Chrétien and Dia, both out through injury.

In the Lorraine, OL have won twice and drawn one game since Nancy returned to the top flight. Dominating in the 2005-2006 and 2006-2007 seasons, they were saved last season by an extraordinary performance from Vercoutre. OL come to Nancy in 1st place once again, with a 4 point lead over PSG, 5 over Toulouse and OM, 6 over Bordeaux… this is a good lead, but not enough to keep them worry free with 14 matches left to go. This trip has its own importance. There must be no question of being in Nancy but focusing on Barcelona ! Each event must be taken in it's turn.

« The team that starts in the Lorraine will not be the one that goes out on Tuesday night … ». Claude Puel announced his point of view during this week's press conference. Deprived of Fabio Santos, Mensah, Bodmer, Clerc, Réveillère and Govou, will he make vast or slight changes to his line-up? Since the start of the season, in similar situations, there have been between 3 and 6 changes. With conditions as they are, Gassama could come back in at right fullback. When was Lamine's last run out? Against Grenoble. If he starts, it will be his 9th appearance in the first eleven. Delgado is also back in contention after his injury against St-Etienne. Another question: Will Claude Puel keep to the same tactical formation (4-4-3)?

Unbeaten in 7 matches, and going into the game on the back of three consecutive victories, OL have all the cards in hand at Marcel Picot, especially if they continue to score as they have done against Nice and Le Havre. A win would start of the next big run of games in the best possible manner. Claude Puel has often spoken of the difficulties his side had in passing from the L1 to the Champions League during the first half of the season. In order to prove that OL have progressed, they will have to give everything without any ulterior thoughts. This match against Nancy is important for the L1 as much as it is for all the rest.