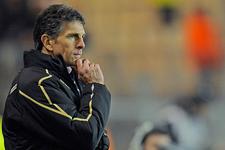 Claude Puel took part in the traditional press conference 48 hours before the match...The treatment room and Nancy were among the points of order, with a slight indication regarding Tuesday's match against Barcelona...
TREATMENT ROOM

« Clerc is heading back to fitness. He has started playing with the CFA side. Réveillère continues his physiotherapy. Fabio Santos has started running again. Delgado is ready to play. Bodmer has started running. He is tired and will not play with the CFA side this week-end ».

NANCY

« It's our priority. The challenge? The ability to stand up and be counted present in these circumstances. We have to show that we have been able to progress and can play match after match. We have to be consistent both physically and mentally. This match should be full of information . We need to focus on Nancy and nothing else. Everyone feels concerned by this match. The fact that Nancy lost to Nice will surely make things more difficult for us. They have their backs against the wall and are in need of points. They are a difficult side to play against and I'm sure they will be thinking that our thoughts are elsewhere ».

MENSAH

« He has trained as usual. The events will run their course. We'll see if he plays against Barcelona. I'm not ruling out any eventualities ».

SQUAD ROTATION

« That may be necessary. The starting line-up against Nancy will most likely be different to the one against Barcelona. But changing things around is not something new, we've been doing that since the start of the season ».